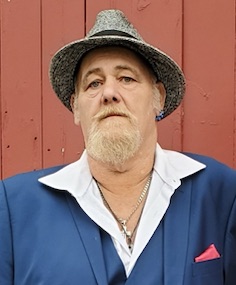 Scott J. Shepherd, age 61, of Marcellus, passed away Wednesday, May 4, 2022 at Bronson Methodist Hospital in Kalamazoo. He was born March 22, 1961 in Detroit, a son of Ernie and June (Martin) Shepherd. Scott graduated from Cody High School in Detroit in 1982 and attended vocational school studying lock smithing and engine repair. On June 9, 1979 he married Tammy Hedges at Temple Baptist Church in Detroit.
Scott owned and operated Shepherd's Sales & Service for the last 15 years, as a lock smith and doing small engine repair. He also operated T&S Lawn Care. Before moving to Marcellus he worked 20 years at Oliver Deluca Concrete Co. in Detroit. Scott was a member of the Local 1076. He was a professional Santa Claus for 15 years, commonly seen at H&R Block and Aaron's in Three Rivers. Scott enjoyed doing hog roast for special events, hunting, and fishing.
Surviving Scott are his wife Tammy Shepherd, Marcellus; daughters Maranda (James) Fitzpatrick, Benton Harbor, Brandie (Leo) Brooks, Three Rivers; sons Branden (Samantha) Shepherd, Marcellus, Michael Shepherd, Three Rivers; grandchildren Alexis, Cassie, Justice, Noah, Mia, Jodi, Oliver, Lydianne, Kyra, Arrianna, Lilyanna, Reagan, Liena, another on the way; and great granddaughter Taliah. Also surviving are his sister Pamela and brother Craig.He was preceded in death by his parents.
Relatives and friends will be received Monday, May 9 from 2 to 4 and 6 to 8 pm at Eley Funeral Home in Constantine. According to his wishes cremation will follow. Please sign Scott's guestbook and leave a message for his family at www.eleyfuneralhomes.com.