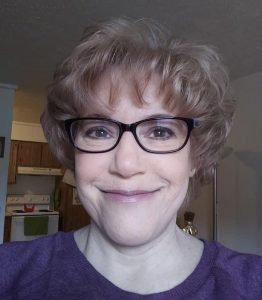 Teresa J. Choszczyk, age 63, of White Pigeon, passed away Monday, May 16, 2022 at her home.  She was born June 10, 1958 in Highland Park, MI, a daughter of Richard and Joan (Ruffatti) Choszczyk.  Teresa graduated from Fowlerville High School.  She went to Cosmetology School, and later in her adult life, she attended Washtenaw County College and became a surgical technician.  Teresa worked at Mott's Children's Hospital in Ann Arbor as a surgical technician for 17 years.
Teresa enjoyed time with her family, holiday gatherings were some of her favorite (she loved being part of a big family), as well as was spending time with her children, grandchildren, and great-grandchildren.  She cherished her time watching her grandchildren in their many activities.  Teresa was also an avid reader and enjoyed crafting.  Some of the other activities she enjoyed throughout her life were bowling, golfing, and making and flying model airplanes.  Another thing that brought her enjoyment, and brought enjoyment to others, was her cooking and baking.  Her nut-filled cookies and mushroom pierogis were raved about at holiday gatherings.  She was a member of Three Rivers Church of the Nazarene and LOVED being involved in many ways.  Singing (and dancing) during Sunday morning services, with a big smile on her face, was something remembered by many.
Surviving Teresa are her son Pastor Rich (Tracey) Saunders, Three Rivers; daughter Kasi (Rob Gawthrop) Saunders, Smithville, MO; grandchildren Nick (Ashley) Hull, Mitch (Allyson) Hull, Heston Saunders, Lilly Saunders; great-grandchildren Adalynn Hull, Athena Hull, Amelia Hull, Ryker Hull, and another on the way.  Also surviving are her brothers, Chet (Leslie) Choszczyk, Tony (Tina) Choszczyk, Ed (MaryAnn) Choszczyk, Dan (Deborah) Choszczyk,; sisters Barb (Shawn) Franklin, Fran (Chris) Bergstrom, Linda Storey, and many nieces and nephews.  Teresa was preceded in death by her parents.
According to her wishes cremation has taken place.  Relatives and friends will be received at the Three Rivers Church of the Nazarene on Friday, June 3, 2022 from 4 to 5 PM.  Memorial services will follow at 5:00 PM.  Pastor Rich Saunders will officiate.  Please visit Teresa's page to sign her guestbook and leave a message for the family at www.eleyfuneralhomes.com.