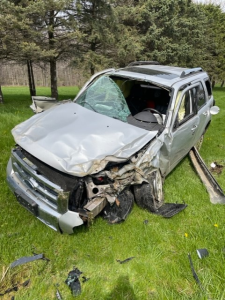 A Three Rivers man died in a single car crash Saturday afternoon at 4pm just west of Jones. According to the Cass County Sheriff's Department, 77-year Roger Wyman was driving his car on M-60 near Timberlane Drive, when it left the roadway, struck a tree, and overturned. Wyman, who was ejected in the crash, died at the scene.
Wyman's wife, Tina Wyman, age 57, was transported to Three Rivers Health for treatment.
Roger Wyman was reportedly not wearing a seat belt, while his wife was buckled in.