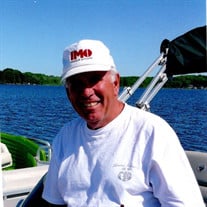 Joel Carr, age 80, of Red Run Road, Big Fish Lake, Marcellus, died Saturday morning, June 4, 2022 at Bronson Methodist Hospital in Kalamazoo, of complications from a lung infection.
Joel was born on August 25, 1941 in Grand Rapids, the son of Russell Lee Carr and Viola (Fryear) Carr, and grew up in Skokie, IL.
He received advanced educational degrees at the University of Michigan. Mr. Carr worked as an educator over the past 43 years. He came to Romulus Community Schools in 1971 and remained there for the rest of his career. Mr. Carr was employed by Romulus Community Schools for 25 years, first as Romulus High School Principal, then Business Manager and finally as Superintendent of Romulus Community Schools. Mr. Carr was a member of the Romulus Rotary Club for 25 years. He earned several honors during his tenure including the Romulus Roman's 2005 Newsmaker of the Year. Under his supervision, the district won several awards, including three Michigan Golden Apple awards, two Math Excellence Awards from the Middle Cities Education Association, and a Michigan Blue Ribbon Award. He retired in 2007 spending winters in Naples, FL and summers at Big Fish Lake, Marcellus.
While at the University of Michigan, Joel met the love of his life, Lynn Berry, who became his wife for 56 wonderful years. They lived in Dearborn, where they raised two sons:  Russell of Northfield, IL. and Matthew of Naperville, IL. Also surviving are 3 grandchildren, Jake, Emmi and Cora, and his brother, William Lee, cousins Bob Dutmer and Loretta Ottenweis both of Grand Rapids, Lisa and Jim Berry of Dayton, OH, Kathie Carr Robinson of Sarasota, FL, their children and other extended family members living all over the USA and Canada.
Joel was cremated and will reside at Big Fish Lake for eternity. Funeral arrangements were by Mater-Ralston Funeral Home. A Celebration of Life will take place at the Carr family home on Big Fish Lake, Saturday, June 11, 2022 from 11:00 am to 2:00 pm. Donations may be directed to Romulus Community School District, 36540 Grant Street, Romulus, MI, 48174. Online condolences may be left at www.materralstonfuneralhome.com