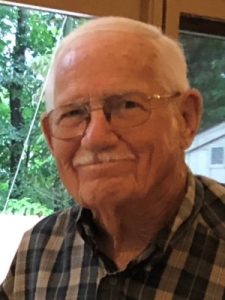 Benjamin Charles Liebenthal, age 98, of Three Rivers, went to be with his Lord on Friday, May 27, 2022.
Born in Milwaukee on March 3, 1924 to Martha (Kaun) and Edward John Liebenthal, he grew up in Hales Corners, WI. He grew up during the depression years of the 30s, graduating from East Troy High School, enlisting and serving over three years in the Army Air Corp during WWII, all contributing to a man who loved adventures and the friends he met along the way. Each one became a story in the book of Ben's life.
The first actual adventure began when he married his love, his traveling companion, his partner in life, Ruth Alice Nott. Hitchhiking from their wedding on July 20,1945 in Wisconsin to his Army Air Force base in Alabama, they hitched rides with people including one who pointed out all the whisky stills in Kentucky, one who let Ben drive while he slept, and one who was a lieutenant governor of Georgia.
On the GI bill, Ben graduated in 1942 with a degree in electrical engineering from the University of Wisconsin.
Eventually moving to LaGrange, IL, Ben's career took off when he was employed by the Electromotive Division of General Motors, a manufacturer of diesel-electric locomotives. Riding along on many western freight railroads, he would recount stories of the train engineers, the firemen and the curious events as he rode along to supervise innovations in wheel slip controls for the locomotive. Other adventures through his career involved swinging from ship to oil well decks in the Gulf of Mexico, visiting China soon after it reopened to outsiders, and visiting Brazil were all highlights of his working career. He retired as the Chief Electrical Rotating Engineer in 1984.
Upon retirement Ben and Ruth explored Germany, Spain, England, Ireland, Scotland and the USA. Everywhere they went the highlights were always about the people they met along the way.
Ruth and Ben enjoyed golf, bridge, dinners and good times with so many friends in LaGrange, IL, in Three Rivers, and in Golf Hammock of Sebring, Florida where they spent winter months after retirement.
He was preceded in death by all nine of his brothers and sisters and his beloved wife, Ruth, who died November 30, 2014.
Ben loved his three children and their spouses, Ann (Larry) Hermen of Three Rivers, Lynn (Gary) Conway of Monmouth, IL and Edward (Sue) Liebenthal of Paw Paw. He adored his 9 grandchildren, Chris Hermen, Tim (Kelli) Hermen, Matt (Lee) Hermen, Brad (Brittany) Conway, David Conway, Catherine Conway, Corlyne (Andrew) Mulder, Julie (Andrew) Cudney, Marc (Priscilla) Liebenthal. He delighted in his 15 great-grandchildren.
He will be dearly missed by all who were lucky enough to know him.
A celebration of life will be Saturday, July 2, 2022 at First Presbyterian Church Three Rivers/Centreville, with visitation at 10:00 a.m., service at 11:00 a.m. and luncheon to follow.
Donations in Ben's memory may be directed to First Presbyterian Church Three Rivers/Centreville. Envelopes are available at and may be sent to Hohner Funeral Home in care of his arrangements.