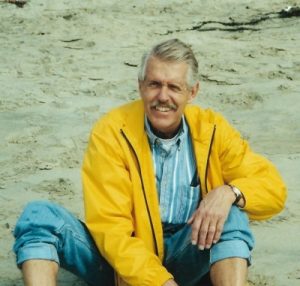 Charles Henry (Charlie) Baber passed away peacefully and surrounded by his family on Saturday, June 4, 2022 at the age of 80.
He was born on October 7th, 1941 in Upper Arlington, Ohio, son of the late Dr. Charles Robert and Betty V. Brown, M.D.
Charlie's early was spent in Upper Arlington where he graduated and was a standout swimmer as well as an Eagle Scout.
He continued his education at Ohio State University where he earned a Bachelor's Degree in Architecture. Following college, he moved to his beloved Klinger Lake, where he had spent his childhood summers. It was there that he met and married Peggy Taylor, who had a summer cottage close to his. They were married for 49 years and shared many wonderful adventures on Klinger Lake and his spiritual home – Mackinac Island.
Charlie started his architectural business in 1973 in Sturgis and was passionate about his profession, and was a talented designer. He enjoyed fishing with his son on the Au Sable River, as well as making memories with his daughter, which included swimming across Klinger Lake, and also with his two granddaughters, who he adored and called him 'Papa.'
Although seemingly reserved, Charlie was a bit of a jokester and had an infectious sense of humor. He was most proud of his role as project manager for the historic Depot move to its current location on US-12.
He is survived by his love and best friend, Peggy, as well as his son Ron (Rachel) and daughter Laura (Scott), as well as his grandchildren:  Ana, Aubrey, Stone, Megan, Sam and Charlie.
He will also be missed by his faithful Newfoundland, Denver.
A private memorial will be held at a later date.
He is greatly missed and will live forever in our hearts.
The Hackman Family Funeral Homes of Sturgis is entrusted with the arrangements.
In lieu of flowers memorial donations would be appreciated to the Sturgis Historical Museum – At the Depot, 110 S. Jefferson St., Sturgis, MI 49091.
We encourage relatives and friends to share memories and condolences at www.hackmanfamilyfuneralhomes.com.