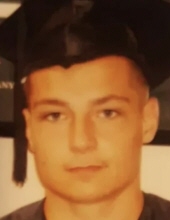 Damon Matthew Smith, age 22, of Bronson, passed away Tuesday, June 28, 2022 at the Bronson Methodist Hospital in Kalamazoo.
He was born August 23, 1999 in Sturgis, son of Jesse and Erma (Quigg) Smith.
Damon resided in Bronson for the past five years coming from Sturgis.
He had an appreciation for art and clothing, and enjoyed music, dancing, and playing basketball, and he loved being an uncle to his niece and nephews.
Damon is survived by his mother: Erma Quigg of Sturgis; father: Jesse Smith of Bronson; sisters: Larissa (Brent) Thomas of Constantine and Courtney Thomas of Sturgis; brothers: Nathan Ross of White Pigeon and Chase Aldrich; nephews: Matthew, Brycen and Brody; niece: Londyn.
He was preceded in death by his grandparents: Leland and Mary Smith, Charles Quigg and John and Pamela Lung.
The family will receive friends from 1:00 to 3:45 P.M. Sunday, July 10th at the Rosenberg Chapel of Hackman Family Funeral Homes, 807 E. Chicago Road in Sturgis where funeral services will follow the visitation at 4:00 P.M.  In accordance with Damon's wishes, cremation will follow the services.
Memorial donations would be appreciated to the Hackman Family Funeral Homes, P.O. Box 9, Sturgis, MI 49091 or by going to the funeral home website at www.hackmanfamilyfuneralhomes.com where donations can be applied to the crowd funding set up for the family and also where we encourage family and friends to leave memories and condolences for the family.