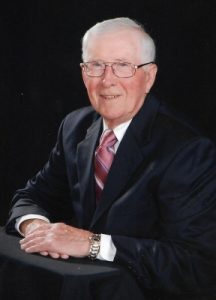 James R. Ward, age 88, of Sturgis, passed away early Friday morning, June 3, 2022 at Ascension Borgess Hospital in Kalamazoo.
He was born October 31, 1933 in Toledo, son of Jeanette Ward, who died shortly after childbirth. Jim was adopted by Jeanette's parents, Jessie (Miller) and Percy Ward.
He met the love of his life, Edith "Eydie" G. Basinger, in San Bruno, California after he was discharged from the Navy. On September 4, 1961, the couple married in Eydie's home town, Enfield, Illinois.
Jim lived most of his life in the southern suburbs of Illinois. After retiring in 2004, Jim and Eydie built a home on Lake Templene near Sturgis, which soon became the family gathering place.
Most of Jim's working life was spent in the printing industry. He retired from Northern Trust Bank in Chicago following several years of dedicated employment.
He was an active member of St. Clare Catholic Church in Centreville and a member of the St. Joseph County Conservation and Sportsman Club in Sturgis. Jim was an avid hunter and always looked forward to the annual hunting trip to Southern Illinois with his son, sons-in-law and grandsons. He also enjoyed fishing.
Jim was proud to have served his country in the U.S. Navy during the Korean War earning the rank of Pipefitter 1st Class.
Jim is survived by his loving and dedicated wife of 60 years: Eydie; four daughters: Sherry Balas and Cary Lowell both of Crown Point, Indiana, Christine (Tom) Ferree of St. John, Indiana and Jill Roth of Schererville, Indiana; one son: Jim (Kathryn) Ward of Naperville, Illinois; and two daughters from a previous marriage: Jean Martincello and Patty Titular; 13 grandchildren: Jeffrey Pavlovich, Paul Balas, Danielle Sneary, Craig Balas, Christopher Pavlovich, Michael Lowell, Nick Lowell, Kristina Lowell, Ben Roth, Megan Hraban, Londen Ward, Alexandra Ward, and Tessa Ward; four great grandchildren: Avery and Eli Balas and Jack and Cooper Sneary and several nieces and nephews.
He was preceded in death by his parents: Jessie and Percy Ward; mother: Jeanette Ward; sons-in-law: David Lowell and Randy Roth; and three sisters: June Brubaker, Betty Schrein and Mary Thomasson.
The family will receive relatives and friends from 5:00 to 8:00 P.M. Wednesday at the Hackman Chapel of Hackman Family Funeral Homes, 114 S. Nottawa St. in Sturgis where the Most Holy Rosary of the Blessed Virgin Mary will be prayed at 7:30 P.M. Wednesday. Prayers before the Mass will begin at 9:15 A.M. Thursday at the funeral home followed by a procession to St. Clare Catholic Church in Centreville where the Funeral Mass celebrating the life of James R. Ward will begin at 10:00 A.M. The Rev. Father R. Mathias celebrant. Full military honors will be rendered by the LaGrange American Legion Post #215 Honor Guard and the U.S. Navy Honor Guard. In accordance with his wishes, cremation will follow the military honors.
The family suggests those wishing to make a memorial donation in Mr. Ward's memory consider the St. Clare Catholic Church Building Fund, 23126 M-86, Centreville, MI 49032.
We encourage relatives and friends to share memories and condolences at www.hackmanfamilyfuneralhomes.com.