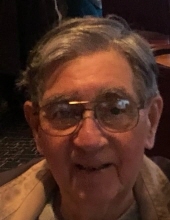 Michael Grahame Ritzer, age 84, of Sturgis, passed away Tuesday morning, May 31, 2022 at his home surrounded by his family.
He was born November 7, 1937 in Fawn River Township, Michigan son of the late John and Anna Marie (Malone) Ritzer.
Mike returned to Sturgis in 1960 from Detroit where he spent his early life.
On May 28, 1960 he married Karen Sue Blasius in Howe, Indiana. She preceded him in death May 22, 2022.
Mike was a firefighter with the Sturgis Fire Department for several years until health issues forced him to retire. Following his retirement and even while still with the fire department Mike seemed to always have more than one job. Mike enjoyed driving and drove for several area companies including Universal Van Conversions and the Foglesong Funeral Home. He was also always available to drive for individuals wherever he was needed, taking people to and from the hospital or doctors appointments, to the airport or to their winter homes. He had also worked at Willer's Shoes, Ron's Super Discount, Gambles Department Store and Edna's Draperies, all in Sturgis, and for many years he taught C.P.R. and First Aid Classes and was a lifeguard at the Sturgis Community Pool.
Mike was an active member of the St. John's Episcopal Church in Sturgis where he served at the Altar, as the church sexton and a Sub Deacon. He enjoyed woodworking, fishing, gardening and yard work. He and Karen traveled to all 50 states with the exception of Alaska. Those who knew Mike will forever remember him for his giving heart and always wanting to be of help to others.
He was proud to have served his country in the U.S. Navy from February 24, 1956 – January 22, 1960 earning the rank of Navy Fireman.
He is survived by two daughters: Alise (Larry) Wingfield of Huntsville, Alabama and Janene Ritzer-Breneman of Kalamazoo; one son: Todd Ritzer of Traverse City; five grandchildren: Aaron Wingfield, Liana (Mark) Wysock, Lauren (Brett) Williamson, Jacob Ritzer and Anna Ritzer; three great grandchildren: Lucas, Lawrence and Jack; half-brother: Kevin Lohse and many cousins, nieces and nephews.
He was preceded in death by his parents, wife and two brothers: Jack Ritzer and Malcomb Ritzer.
In accordance with his wishes cremation has taken place. A memorial Mass celebrating the life of Michael G. Ritzer will be held at the St. John's Episcopal Church in Sturgis at a later date to be announced. Burial of the remains will take place at Oak Lawn Cemetery in Sturgis where full military honors will be rendered by Captin John J. Kelley Post #1355 VFW and the U.S. Navy Honor Guard
The Hackman Family Funeral Homes of Sturgis is entrusted with the arrangements.
The family suggests those wishing to make a memorial donation in Mrs. Ritzer's memory consider the St. John's Episcopal Church, 110 S. Clay St., Sturgis, MI 49091 or the American Heart Association 3816 Paysphere Circle, Chicago, IL 60674.
We encourage relatives and friends to share memories and condolences at www.hackmanfamilyfuneralhomes.com.