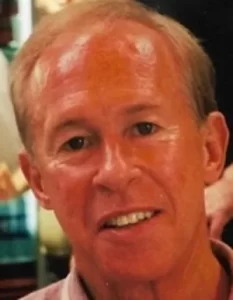 Roger Lee Johns, age 80, of Sturgis, passed away on May 24, 2022 surrounded by family.
He was born February 4, 1942, in Tulsa, Oklahoma son of the late Leo and Ethel (Vandivert) Johns. His early life was spent in Tulsa where he was a graduate of Will Rogers High School. He gained a Bachelor of Science in Metallurgic Engineering at Colorado School of Mines and went on to a career in manufacturing.
Roger came to Sturgis in 1973 and worked for thirty years at Sturgis Molded Products. At the time of his retirement, he held the position of Executive Vice President. He was previously employed at Shell Oil in various locations including New York City, Cleveland and Detroit.
Roger was proud to have served his country in the U.S. Army during the Vietnam War with the Corp of Engineers earning the rank of Second Lieutenant.
He was a member of the First United Methodist Church in Sturgis and a past member and officer of the Klinger Lake Country Club.
Roger had many hobbies and enjoyed off-road motorcycles, endurance and hare scrambles, annual trips to the 24 Hours of Sebring race, Formula One racing, and working on and playing at his home and property. Those that knew Roger could only describe his barn and woods as his sanctuary.
He is survived by his longtime partner: Valerie Mildenberg of Sturgis; two daughters: Lauren (Taylor) Johns Batten of Charlotte, North Carolina and Melissa (Bill Tucker) Johns of Washington, D.C.; grandchildren: Katie, Lindsay, James, Alex and William; sister: Carolyn (Steve) Sekerak of Helena, Montana and nephews: Steve Sekerak and Vernon Archer.
A gathering of family and friends to honor and celebrate the life of Roger Johns will take place from 2:00 to 4:00 PM on July 3, 2022 at the Klinger Lake Country Club 21050 U.S. 12 in Sturgis. A time of sharing will begin at 2:30 PM followed by the rendering of full military Honors by Captain John J. Kelley Post #1355 V.F.W. and the U. S. Army Honor Guard.
The Hackman Family Funeral Homes of Sturgis is entrusted with the arrangements.
The family suggests in lieu of flowers memorial donation be directed to the Sturgis Community Foundation, 310 N. Franks Ave., Sturgis, MI 49091
We encourage relatives and friends to share memories and condolences at www.hackmanfamilyfuneralhomes.com.