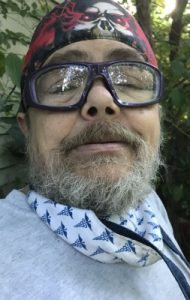 Anthony A. "Tony" Gillette, age 60, of Sturgis, passed away early Wednesday morning, June 1, 2022 at Ascension Borgess Hospital in Kalamazoo.
He was born April 14, 1962 in LaGrange, son of Kenneth Wayne and Wilma (Chupp) Gillette.
Tony was a lifelong Sturgis resident and graduate of Sturgis High School with the class of 1980.
On June 26, 1981 he married Kathy Lovett in Centreville.
Tony was currently employed by Morgan Olson in Sturgis and he had also worked at Coachman Industries in Middlebury.
He was an active member and past officer of the Eagles Lodge #1314 in Sturgis. Tony loved playing cards, especially Texas Hold'em and Blackjack and he was always ready for a trip to the casino.
He is survived by his loving and dedicated wife of nearly 41 years: Kathy; mother: Wilma Gillette of Sturgis; one brother: Wayne Gillette of Georgia; two sisters: Merry Diane Heitzmann and Twyla (Ron) Prater both of Sturgis and several nieces and nephews.
He was preceded in death by father and nephew: Cody.
In accordance with his wishes cremation has taken place. A gathering of family and friends to celebrate and honor the life of Tony Gillette will take place at 1:00 P.M. Saturday, August 20th at the Eagles Lodge, 1207 W. Chicago Rd. in Sturgis.
The Hackman Family Funeral Homes of Sturgis is entrusted with the arrangements.
Memorial donations would be appreciated to the Hackman Family Funeral Homes, P.O. Box 9, Sturgis, MI 49091 to help with expenses.
We encourage relatives and friends to share memories and condolences at www.hackmanfamilyfuneralhomes.com.