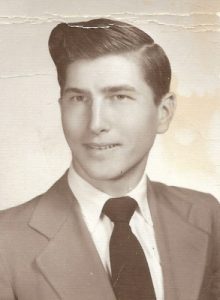 Dale Leroy Robison, age 85, of Centreville, passed away Thursday afternoon, August 4, 2022 at Bronson Methodist Hospital in Kalamazoo.
He was born June 12, 1937 son of the late Raymond and Katherine (Gross) Robison.
Dale resided in Centreville for the past 14 years coming from Sturgis.
On July 18, 1959 he married Willetta K. "Billie" Kesslar in Factoryville. She preceded him in death February 4, 2006. On February 9, 2008 he married Helen (Gilbert) Lahman.
Dale retired from Quality Glass in Sturgis following several years of dedicated employment. Prior to joining the glass company he had been employed by Frye Copy Systems in Sturgis for over 20 years and he also had worked as a supervisor at Bronson Plastics in Bronson.
He was a member of Firm Foundation Ministries in Centreville.
Dale had a love and passion for fishing and for many years he participated in league bowling.
He is survived by his wife: Helen; three sons: Davey G. (Monica) Robison of Sturgis, Dale A. (Susie) Robison of Wakarusa, Indiana and Ray Robison of Galesburg; 12 grandchildren: Danae, Davey, Skylar, Austin, Talyn, Marcia, Branden, Deserea, Kayla, David, Ricky and Justen; four great grandchildren: Brantly, Brooks, Mattea and Matthias; two step-grandchildren: Alaina and Alyssa; two step-great grandchildren: Eleanor and Charlotte; several step-children and their grandchildren and great grandchildren; two brothers: Ray Robison of Centreville and Ronald (Margaret) Robison; one sister: Carol (Roger) Miller of Three Rivers and many nieces and nephews.
He was preceded in death by several brothers and sisters.
The family will receive friends from 5:00 to 7:00 P.M. Wednesday, Aug. 10th at Firm Foundation Ministries, 651 E. Main St. in Centreville where funeral services celebrating the life of Dale Leroy Robison will begin at 11:00 A.M. Thursday. Pastors Don Smith and Mike Monson will officiate. A graveside committal will follow the service at the Locust Grove Cemetery in Burr Oak.
The Hackman Family Funeral Homes of Sturgis is entrusted with the arrangements.
Memorial donations would be appreciated to the family to help with expenses c/o: Firm Foundation Ministries, P.O. Box 235, Centreville, MI 49032.
We encourage relatives and friends to share memories and condolences at www.hackmanfamilyfuneralhomes.com.