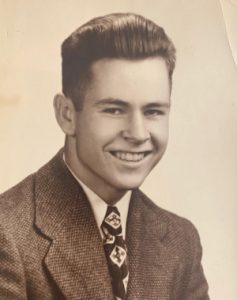 Donald Oliver Boyce, age 90, of Three Rivers, died peacefully at home on Sunday, Aug. 14, 2022. He was born in Coleman, Michigan on November 12, 1931 the son of Alfred and Gertrude (Ettinger) Boyce. The family moved to Mendon in 1946 where he was a Boy Scout. Donald was a member of the Mendon High School class of 1950 where he was active in all sports and played on the championship football team. He served in the US Army in Korea and was a member of the American Legion. Donald was married to Janet Jarratt on June 11, 1965 in Three Rivers. Together they restored and sold several homes in Three Rivers and were married for 54 years until Janet's passing in 2019.
Donald is survived by two children, Linda (Daiv) Barnhardt of Three Rivers and Donald Boyce, Jr. of Centreville; a step-son, Arden Jarratt of Gloversville, NY; four grandchildren, Nicholas Barnhardt, Marcus Del Valle, Andrew Jarratt, and Melissa Jarratt; several great grandchildren; sister-in-law, Barbara Boyce of Alma.
He was preceded in death by his parents; his wife, Janet; his step mother, Elsie (Stanek) Boyce; brothers, Clayton, Edward, Lawrence, Ivan Dale Boyce, and David Wolford; sister, Norma Adams; and twin sister, Dorothy Batten.
In keeping with his wishes, cremation has been conducted. A private interment will take place later in North Bradley, Michigan. Professional assistance was provided by the Eickhoff Farrand Halverson Chapel of Three Rivers. Memories and condolences may be shared at www.efhchapel.com