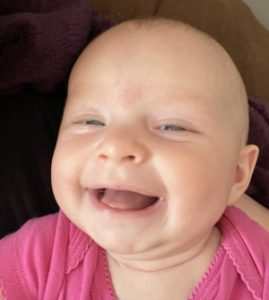 It is with deepest sorrow that Nick and Maisie Neppach announce that their sweet daughter, Lucy Jane Neppach, passed away on Saturday, September 3rd, 2022. She was born on May 4th, 2022 and had a wonderful four months with her family and friends. She loved to smile, blow spit bubbles, travel, and play with her sister (Hannah, 4) and brother (Lukas, 1).
Lucy is survived by her parents, siblings, four wonderful grandparents (Bill and Becky Neppach; Dawn and David Hagerty), and many loving aunts, uncles, and cousins.
Funeral Services were held on September 10th at The Church of Jesus Christ of Latter-day Saints, 32895 Cedar Rd, Mayfield Heights, OH 44124.
Donations in Lucy's memory can be made to Latter-day Saint Charities by clicking the link below.