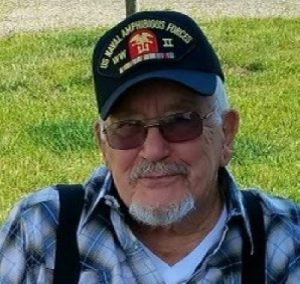 Thomas M. Eldridge, age 95, of Freeport, and a former resident of the Bronson and Burr Oak area, passed away Thursday morning, September 22, 2022 at the University of Michigan Health West in Wyoming, Michigan.
He was born April 27, 1927 in Mitchellville, Tennessee son of the late Harry and Layman (Burns) Eldridge.
Tom resided in Waterloo, Iowa for over 40 years. He had recently moved to Freeport to be closer to his son and he lived many years in the Bronson and Burr Oak area.
Tom was an over the road truck driver by trade. He had a passion for truck driving and drove until retiring at the age of 89. From 1963-1969 he owned and operated the Sinclair and Shell stations in Burr Oak and also owned and operated with Bill Sampson, Bill and Tom's Wrecker Service.
He was a former active member of the Orland Church of the Nazarene in Orland, Indiana where he sang in the choir and in a quartet that performed throughout the area.
Tom was proud to have served his country in the U.S. Navy during WWII. He enjoyed fishing, deer hunting and camping and was a past member of the St. Joseph County Dive Team.
He is survived by four sons: Thomas M. (Sylvie) Eldridge of Jacksonville, Florida, Mark A. (Cheryl Becker) Eldridge of St. Ignace, Ronald J. (Anita) Eldridge of Sturgis and Christopher L. (Dawn) Eldridge of Freeport; one daughter: Brenda Kay (Lloyd) Taafee of China Springs, Texas; 10 grandchildren, many great grandchildren and one great great granddaughter; one brother: Roger Eldridge of Franklin, Kentucky and several nieces and nephews.
He was preceded in death by his parents; son: Timothy Maxwell Eldridge; grandchildren: Scott, Christopher and Misty Jo and sisters: Geraldine and Dorothy.
In accordance with his wishes cremation has taken place. A memorial graveside service and burial of the remains will take place at 11:00 A.M. Saturday Oct. 1st at the Burr Oak Cemetery in Burr Oak. Tom's son Christopher will officiate. Full military honors will be conferred by the Colon American Legion Post #454 Honor Guard and the U.S. Navy Honor Guard. A continued time of fellowship and the sharing of a meal will follow the service at the Colon American Legion in Colon.
The Hackman Family Funeral Homes of Sturgis is entrusted with the arrangements.
Memorial donations would be appreciated to the Colon American Legion Post #454, 122 E. State St., Colon, MI 49040.
We encourage relatives and friends to share memories and condolences at www.hackmanfamilyfuneralhomes.com.