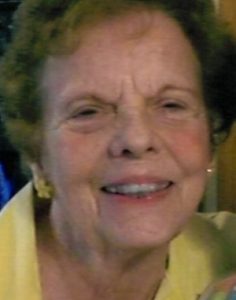 Patricia Joan (Clemens) VanSkike, age 90, of Sturgis, passed away peacefully on Wednesday, October 26, 2022, at Thurston Woods Village in Sturgis.
She was born Feb. 5, 1932 in Sturgis to Vernon & Marjorie Wallick. One of 6 children, she fell in love with Richard Clemens, who lived down the street. Her father insisted she wait until her 17th birthday to become engaged, and they were married February 12, 1949. Pat was a homemaker, raising three daughters, and was active in the early formation years of the Sturgis Wesleyan Church.
She wasn't much of a traveler or adventurer, but in In 1960, she traveled alone with the three girls to meet Richard in Tournata, Liberia, on Africa's west coast, where they served for 2 years as lay missionaries.
Upon their return to Sturgis, Pat began caring for children in her home, and ran a daycare for many years. Eventually, she helped to establish the Humpty Dumpty Nursery School at the Wesleyan Church. Her love of children never wavered, and until her life's end, she delighted in holding a baby in her arms.
In 1973, Richard died at age 47. The following summer, working at a church camp in Hastings, Pat ran into Bryan VanSkike, a longtime friend of the family who had recently been widowed himself. This chance encounter resulted in their marriage on November 29, 1974. Pat moved to his home in Charlotte, and established a new chapter with Bryan's children. They were married for 46 years.
In both Sturgis and Charlotte, family members were blessed to share life with a woman of unconditional love, strong faith, and an open heart. Pat's life was one of praise and thanksgiving.
Pat and Bryan returned to live in Sturgis in 2019. Bryan passed away at Thurston Woods in 2020, and Pat entered Thurston Woods the following year.
She is survived by her children: Linda (Larry) Hahn, Mary (Joe) Schmitt, Katie Clemens, Brynda Filkins, Nathan (Kathy) VanSkike, Penny Pickett; one brother: Vern Wallick; 2 sisters: Beverly Fuller and Dixie DeHaan; numerous grandchildren, great grandchildren, and great-great grandchildren, and many nieces and nephews.
A memorial service will be held Sunday, November 6, at 3 p.m. at the Sturgis Evangelical Church on Fawn River Road in Sturgis, with Pastor Troy Diersing officiating. The family will greet friends from 1 to 3 pm, prior to the service.
In lieu of flowers, memorials may be directed to Sturgis Pregnancy Helpline, 1125 N. Nottawa St., Sturgis, MI 49091 or Thurston Woods Village, 307 N. Franks Ave., Sturgis, MI 49091.
We express our gratitude to the Thurston Woods staff, who provided her with such loving care and to Hackman Family Funeral Homes for their kind assistance.
Relatives and friends are encourages to share memories and condolences at www.hackmanfamilyfuneralhomes.com.