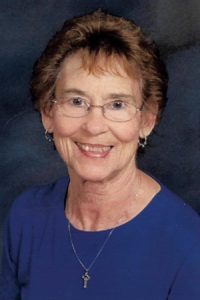 Phyllis May Gage, age 90, of Three Rivers, passed away Sunday, October 23, 2022 at Safe Haven Assisted Living, surrounded by her loving family.
She was born September 23, 1932 in Kalamazoo, the daughter of Levi and Ida (Grimm) Brewster.
Phyllis never graduated from high school because of the need to work in her parents' grocery store.
She married Max Benthin, with whom she had a daughter, Debra Benthin. They were soon divorced.
She then married James Gage in July of 1956 and they had two daughters and a son.
In the late sixties she made her family very happy by pursuing a career. She earned her GED and went on to receive her nursing degree.
Phyllis worked in the Three Rivers Emergency Room for many years. She was a natural at nurturing patients and families. Her kind heart and calm demeanor made her a great nurse. She made numerous lifelong friends with her coworkers.
After leaving the emergency room she started and organized the Three Rivers Specialty Clinic. Her last nursing job was at T.R. Mental Health.
Phyllis loved to travel. She and Jim took several trips with her loved niece Judy Oliphant and Len. They explored Italy, Spain, Bahamas, along with camping locally.
Phyllis was very active in her beloved First Methodist Church in Three Rivers. While attending there she was in the choir, was a lay speaker and a life member of the United Methodist Women Group.
Remaining to cherish her memory are one son, Doug (Jackie); three daughters, Deb (Bob) Osborn, Pam (Mike) Heivilin, and Brenda (Patrick) Kinsey; seven grandchildren, Beau Osborn, Jason Heivilin, Logan Heivilin, Christy Sutton, Brandon Gage, Cara Spence, and Meryl Cabrera.
She had many great-grandchildren and nieces and nephews.
She was preceded in death by her husband, James Gage; her parents; and three sisters, Irene Brewster, Corky Hays, and Kate Chase.
Visitation will be held Saturday, November 5, 2022 at 10:00 at First United Methodist Church, 215 N. Main St., Three Rivers. A memorial service will follow at 11:00 at the church, with Pastor Tim Raakman officiating.
Donations in Phyllis' memory may be directed to either First United Methodist Church of Three Rivers or the Alzheimer's Association. Envelopes are available at and may be sent to Hohner Funeral Home.