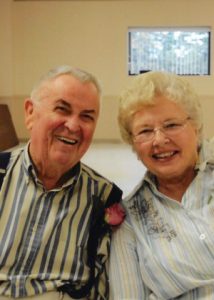 Arland M. Fair age, 91, of Bronson, passed away on Saturday, November 26, 2022, at Drews Place of Coldwater.
Arland was born on July 12, 1931, in Gilead Township, Michigan, a son to the late Marshall H. and Wava A. (Pocock) Fair.
Arland married Marjorie Croy on August 25, 1951. They celebrated their 71st anniversary this year. They started their married life at Gilead Lake and shortly after moved to Matteson Township where they raised their children, built a home, traveled, and cared for many families and friends. Arland started working for Douglas Manufacturing in 1952 as a night janitor. He retired in as a superintendent in 1989 after 37 years of service. He enjoyed working with people and was very good at listening to them and sorting out problems. He was a very loyal Michigan fan, and enjoyed fishing, traveling, and especially playing cards with his poker club. He also enjoyed his lunches with his neighbors at Gilead Lake after he and Marjorie moved back to the lake and built there home, after 50 years in Matteson Township.
Arland always made sure his family enjoyed vacation together, especially at lakes known for good fishing. He imparted many life lessons to his daughters and was always there for them. They loved him unconditionally and he will always be in their hearts.
Surviving Arland are his two daughters: Julie (Charles) Outlaw of Sherwood, and Vickie (Dean) Losinski of Sherwood, and "Third Daughter" Mary Loudenslager of White Pigeon, and a sister-in-law Sara Jane Fair.
Besides his parents Marshall and Wava Fair, and his wife Marjorie A. Fair, Arland was preceded in death by his brothers: Irvin and DeWayne Fair, and his sister Betty King.
Following in Arland's wish's cremation has taken place. A memorial service will be announced in the spring. Memories and condolences can be left for the family at Schipperfuneralhome.com.