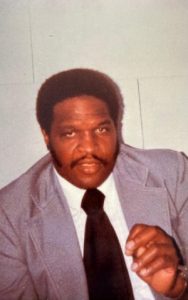 Jessie Lee Hodges, age 87, of rural Three Rivers, died Sunday, November 27, 2022 at his home surrounded by his family. He was born in Shannon, Mississippi on April 17, 1935 the son of the late Early and Mariah (Cox) Hodges. He attended school in Shannon before moving to Chicago. While in Chicago he met and married Hazel F. Comstock on November 11, 1960. They moved to the Three Rivers area in 1962. Jessie was employed for 37 years at Dock Foundry, which later became Metal Technologies, He also worked part-time at Quality Furniture in Three Rivers. He was a member of the Grant Chapel AME in Three Rivers. He enjoyed the outdoors and gardening and he specially enjoyed family gatherings at their home along the river.
Jessie is survived by his wife of 62 years, Hazel Hodges; eight children, Stephanie Brown of Atlanta, GA, Jessie (Charlene) Hodges, Jr., Lyle Hodges, and Darryn (Veronica) Hodges all of Three Rivers, Nicole Hodges of Atlanta, GA, Jaquan Hodges of Ft. Drum, NY, Ronell Hodges and Marcus Hodges both of Three Rivers; fourteen grandchildren; sixteen great-grandchildren with twins on the way; two sisters, Mary Walker of East St. Louis, IL and Mariah Hursey of Three Rivers. He was preceded in death by his parents; two great-grandsons, Leighton and Ricky; brothers, Ernest, Fred, Henry, Earl, and Elmer Hodges; and sisters, Henrietta Simms and Anna Peral Simms.
In keeping with his wishes, cremation has been conducted. A gathering of family and friends will take place in the Spring of 2023 along the bank of the Portage River.
Professional assistance was provided by the Eickhoff Funeral Home of Mendon. Memories and condolences may be shared at www.eickhofffuneralhome.com