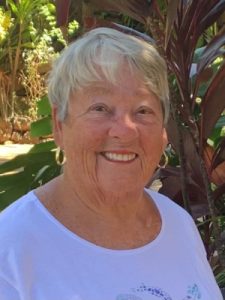 Barbara Lee Evert of Klinger Lake. Sturgis, passed away unexpectedly after a brief illness on Monday, January 16, 2023 while wintering in Naples, Florida. She was born in Muskegon on September 30, 1944 and was a member of the Sturgis High School class of 1962. She continued her education at Hope College and transferred to Northern Michigan University where she graduated in 1966 with a degree in English. Her calling in life was teaching. She received her teaching certificate and was a special education teacher for over 20 years.
She was married to Daniel Evert on August 27, 1966, in Sturgis, and was a life long member of Sturgis Methodist Church. She was active in the church where she attended Sunday school as a child and sang in the choir and served on many committees as an adult. She was an avid reader and was well known by the White Pigeon library staff, who would set books aside for her they thought she might like. She also loved humming birds, gardening, and playing games. Barb and Dan were able to travel extensively and just 3 months ago were once again able to enjoy their favorite place in the world, Maui.
Her real passion in life was meeting and making friends. She had a unique ability to quickly connect with people that resulted in many dear friends throughout her life.
She is survived by her husband of 56 years, Dan Evert; son Jeff Evert (Elyse) and their children Paige and Ethan of Concord, NC; son Greg Evert (Lisa) and their children Stephanie and John of Jackson, NJ; sister Carol McKay of Libertyville, IL and sister Linda Dow (Steve) of Okemos, MI. Barbara was proceeded in death by her parents Ernest and Aileen Kronberg and brother Ron.
A celebration of life will be held on May 20th at 11am at the First Methodist Church in Sturgis.
Fond memories and expressions of sympathy may be shared at www.hodgesfhatnaplesmg.com for the Evert family.