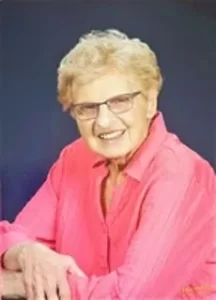 Elizabeth "Betty" A. Brzezinski, age 96, passed away on Wednesday, January 11, 2023 in the Colon area, where she lived for 13 years. Betty was born in East Chicago, Indiana on June 2, 1926 to the late Anna and John Pavlak. She lived for 47 years in East Chicago, where she raised her family, before moving to Highland, IN in 1973.
Betty was preceded in death by her beloved husband of 38 years Marion V. Brzezinski and siblings Patricia, Adolph, Dan, Steve, Mary Theresa, Joseph (Mary) Pavlak, Margaret (Ken) Spry and Gloria (Wolfgang) Scheuermann.
Betty is survived by her three children, Joseph (Vera) of Tuscaloosa, AL,  Patricia Hicks of Huntsville, AL,  and Michelle (Michael) Zimmerman of Colon, four grandchildren: David (Donna) Brzezinski of Fort Payne, AL,  Dianna (Wes) Abold of Glenn, CA,  Jon Brzezinski of Tuscaloosa, AL,  Luther (fiancée Toni) Hicks of Huntsville, AL  and great grandchildren Angel and Tanner Abold, Kathleen Wells with great great grandchildren Aubree, Conner, Dalton and Peyton.
Betty attended Roosevelt High School in East Chicago. Betty had worked at Midwest Steel in Portage, IN and Youngstown Sheet and Tube in East Chicago. Betty was a member of the American Legion Ladies Auxilary Post #454 in Colon, and Post #369 in East Chicago.
Betty loved her life and activities with her husband and especially enjoyed their dancing. She was so proud of once being crowned King & Queen of the Prom through Zavada Dance Studio, in Calumet City, IL. Betty enjoyed their many family vacations and traveled every state except Washington and Oregon. She was a devout Catholic. Betty was an animal lover and for many years received much joy with her cat "Squeeky".
Visitation is scheduled from 11:00 am to 1:00 pm on Monday January 16, 2023, at St. Barbara Catholic Church at 479 S. Burr Oak Road in Colon. A funeral mass will be held immediately following the visitation. Interment will take place at St. John Cemetery in Hammond, IN, on Tuesday January 17, 2023 at 12 PM. In lieu of flowers, the family asks memorial donations be made to the St. Joseph County Humane Society. Memories and condolences may be left for the family at Schipperfuneralhome.com.