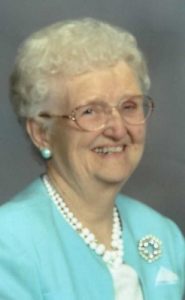 Betty I. Priest, age 93, of Sturgis, passed away Thursday evening, January 19, 2023 at her home surrounded by her family.
She was born March 23, 1929 in Bronson, daughter of the late Cecil and Hildred (Funk) Anderson.
Betty resided in Sturgis since 1966 coming from Bronson, where she was a graduate of Bronson High School with the class of 1946.
On April 5, 1947 she married Wendell E. Priest in Bronson. He died May 14, 1997.
Betty retired in 1988 from the Freeman Manufacturing Company in Sturgis following five years of dedicated employment. She had also been employed by Douglas Manufacturing in Bronson for several years.
She was a longtime active member of the First Baptist Church in Sturgis, Order of Eastern Star Mystic Star Chapter #354, and Rainbow and Job's Daughters Advisors.
Betty enjoyed playing cards, jigsaw puzzles, crocheting, wintering in Florida with Wendell, and loved time spent with her family.
She is survived by one son: James (Daisy) Priest of Burr Oak; two daughters: Jean (Ray) Miller and Jilayne (Gary) Reed both of Lake Placid, Florida; six grandchildren: Chris, Jennifer, James, Jason, Audrey and Michael; 17 great grandchildren; six great great grandchildren and several nieces and nephews.
She was preceded in death by her parents; husband; one son: Michael Priest and brother: Robert Anderson.
The family will receive friends from 5:00 to 8:00 P.M. Sunday, Jan. 22nd at the Rosenberg Chapel of Hackman Family Funeral Homes, 807 E. Chicago Rd. in Sturgis where an Order of Eastern Star Memorial service will begin at 7:00 P.M. Sunday. The family will also receive friends from 10:00 to 11:00 A.M. Monday, Jan. 23rd at the First Baptist Church, 1050 E. Fawn River Rd. in Sturgis where funeral services celebrating the life of Betty I. Priest will immediately follow the visitation at 11:00. Chaplain Scott Southerland, of ProMedica Hospice will officiate. Interment will take place at the Bronson Cemetery in Bronson following a continued time of fellowship and the sharing of a meal in the church fellowship hall.
The family suggests memorial donation be directed to the First Baptist Church, 1050 E. Fawn River Rd., Sturgis, MI 49091 or Mystic Star Chapter #354, c/o: Joan Waterbury, 1025 E. Central Rd., Quincy, MI 49082.
We encourage relatives and friends to share memories and condolences at www.hackmanfamilyfuneralhomes.com.