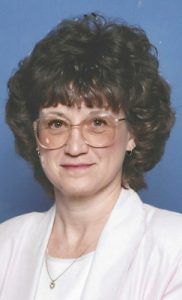 Gail R. Morey, age 74, of Sturgis, passed away early Sunday morning, January 22, 2023 at Rose Arbor Hospice in Kalamazoo.
She was born October 10, 1948 in Otsego, daughter of the late Cyril and Geraldine (Robyler) Farnham.
Gail resided in Sturgis for over 50 years coming from Otsego.
On May 14, 1983 she married Rex A. Morey in Sturgis.
Gail retired from K-Mart in Sturgis following over 30 years of dedicated employment. At the time of her retirement she held the position of Store Manager. Prior to joining K-Mart, she worked as a waitress and cook at Ma Gibson's Diner and the Golden Cone, both in Sturgis.
She was a very active member of Captain John J. Kelley Post #1355 VFW Auxiliary in Sturgis and a member of the Red Hat Society. She enjoyed participating in cowboy shoots and traveling to Florida with Rex in their motorhome and she also enjoyed crocheting.
She is survived by her husband of 39 years: Rex; her children: Rex (Christine) Morey, Jr. of Alliance, Ohio, Jennifer Buchanan of Sturgis, and Misty Barnes of Three Rivers; grandchildren: Michael, Paige, Kristen, Alyssa, Anthony, Grace, Ashley, Abigail, Olivia and Wyatt; great grandchildren: Madalyn, Hayden, Henry and Hudson; brother: Roy (Gloria) Farnham of Kalamazoo and several nieces and nephews.
She was preceded in death by her parents and sister: Beth Nichols.
The family will receive friends from 5:00 to 8:00 Wednesday at the Hackman Chapel of Hackman Family Funeral Homes, 114 S. Nottawa St. in Sturgis where funeral services celebrating the life of Gail R. Morey will be held at 1:00 Thursday. The Rev. George Cleverly of the Sturgis Church of Christ will officiate. A graveside committal will follow the service at Oak Lawn Cemetery in Sturgis.
The family suggests those wishing to make a memorial donation in Mrs. Morey's memory consider VFW Post #1355, 264 W. Fawn River Rd., Sturgis, MI 49091.
We encourage relatives and friends to share memories and condolences at www.hackmanfamilyfuneralhomes.com.