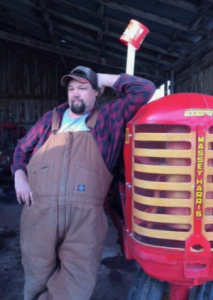 Gerald Dale Handy, age 56, of Plattsmouth, Nebraska, passed away on January 7, 2023. He was born September 12, 1966, at Andrews Air Force Base, in Maryland to James W. and Donna J. (Metty) Handy.
Gerald grew up in a military family and moved to Plattsmouth when he was in High School.  He graduated from Plattsmouth High School with the Class of 1984.  On August 16, 1991, he married Ruth Hunter at the St. Gabriel's Eastern Orthodox Church in Omaha. Together they raised their kids Leza, DJ, Christopher, and Kayla.  In his early career, he worked for Kaffenbergers before beginning a 30-year career as a Diesel Mechanic for the State of Nebraska Department of Roads. During his free time, he enjoyed watching the Dallas Cowboys, watching John Wayne movies, restoring old cars, hunting, collecting beer steins, and most importantly spending time with his grandkids. He had a love for tractors and was a member of the Mid Stats Antique tractor club.
Gerald is survived by his wife Ruth, his children, Leza (James Tolston) Hunter of Bellevue, Nebraska, DJ (Ava) Barber of Bellevue, Nebraska, Christopher (Jamie) Barber of Bellevue, Nebraska and Kayla Handy of Plattsmouth, his parents Jim and Donna Handy, his siblings, Cliff (Sheila) Handy of Plattsmouth, Theresa (Ken) Winter of Blair, Nebraska, 13 grandchildren with two on the way, 1 great-granddaughter, as well as many nieces and nephews.
He was preceded in death by his brother James Handy, Jr.
Arrangements By:  Brian P. Harvey Funeral Home – Plattsmouth, NE
Condolences to www.bpharveyfuneralhome.com