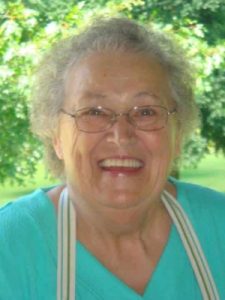 Helen Ilene Hammond, age 89, of Three Rivers, passed away Sunday, January 29, 2023 at her home.
She was born December 4, 1933 in Roseland, Indiana, the daughter of Ernest and Emily (Whitehouse) Carrithers.
Helen earned her associate's degree in childcare from Glen Oaks Community College. She was a homemaker and then worked in manufacturing.
She loved cooking and loved her family. She cared for littles as a Foster Grandmother at Huss School, and was a member of the Seventh Day Adventist church.
Remaining to cherish Helen's memory are her children, Michael Burrell, William Hammond, Charles Hammond, Colleen Hanni; eight grandchildren; 15 great-grandchildren, and four great-great-grandchildren; brother, Kenneth (Janet) Carrithers.
She was preceded in death by her parents and by eight siblings.
Visitation will be held Saturday, February 4, 2023 at 10:00 at Hohner Funeral Home, 1004 Arnold St., Three Rivers. A funeral service will follow at 11:00 at the funeral home with Pastor Jamey Smith officiating. She will be laid to rest in Mt. Zion Cemetery.