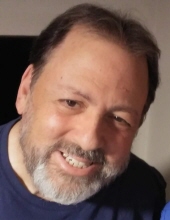 Steven Henry Suarez, age 61, of Bronson, passed away Sunday, January 15, 2023 at Ascension Borgess Hospital in Kalamazoo.
He was born June 18, 1961 in Dearborn Heights, MI a son to the late Henry and Mary (Mannarino) Suarez.
Steven spent most of his life in the Dearborn Heights area and just last year moved to Bronson, Michigan. He had been employed at Ford in the Health and Safety Division for 16 years and most recently worked for Help Financial as a concierge.
He attended St. Dunstan and St. Anslem Catholic Churches in Dearborn Heights and was a member of the Knights of Columbus. He enjoyed cars, (and loved everything Ford), fishing, hunting (or at least being in the woods) and had a quick wit and a great sense of humor.
Surviving are his wife Julie; a stepson: Christopher (Maryann) Johnston; a sister: Kathy (Eric) Isenhart; a brother: Larry (Maria) Suarez; nieces and nephew: Kellie Tower, Gabriella Suarez, and Chad Tower; and great-niece: Angela Ciccarelli.
He was preceded in death by his parents.
Cremation has taken place and funeral services will be held at 2:00 on April 22, 2023, at Gods Family Room, 8813 Beech Daly Road, Taylor, MI 48180 with funeral luncheon details pending.
Memorials may be directed to the family, envelopes are available at the Hackman Family Funeral Homes of Sturgis, who have been entrusted with the arrangements.