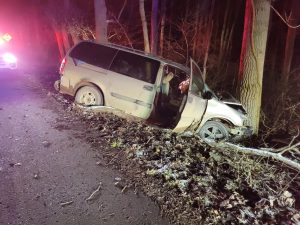 Speed is suspected as being a factor in a single-vehicle crash last week in Cass County's Jefferson Township.
Sheriff Richard Behnke said deputies were called shortly after 7 p.m. Friday to Hess Road, just north of Pine Lake Street.
Behnke said Vandalia resident Jeri Rickeys was driving north on Hess Road before her vehicle crashed head-on with a tree.
Rickeys was removed from her vehicle by medical personnel. Rickeys and passenger Thomas Wagers were transported to South Bend Memorial Hospital.
Investigators said seat belts were not worn.