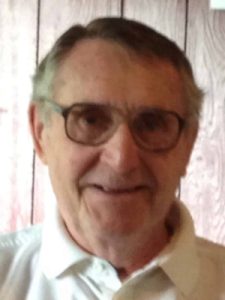 Ewalt "Walt" Shoesmith, age 97, of Three Rivers, passed away Saturday, January 14, 2023 at ProMedica Skilled Nursing & Rehabilitation.
He was born May 20, 1925 in Perry, the son of Wayne and Velma (Walker) Shoesmith.
Walt served his country in the United States Navy during World War II and Korea, ultimately earning the rank of Boatswain's Mate G Second Class.
On August 12, 1950 he married the love of his life, Doris Elaine Wolford. The couple shared 63 years of marriage prior to her passing on February 6, 2014. They loved camping together and dancing at the Eagles every Saturday (and, in later years, Sundays as well). Like the two beautiful redbud trees in their backyard under which they enjoyed sitting together, they were pillars of strength to those around them.
Walt and Elaine owned and operated the Hoffman Street Grocery for many years. It was a true family business with all three sons working at the grocery as they grew up.
He was a master gardener and a wealth of information about everything plant-related; he loved woodworking and built two homes from scratch. He also loved listening to old band records.
Remaining to cherish his memory are three sons, David J. (Brenda) Shoesmith of Three Rivers, Dennis A. (Mitzi) Shoesmith of Three Rivers, and Darin R. (Debra) Shoesmith of Norway, Mich.; 10 grandchildren, David, Garrett, Travis, Lisa, Eric, Jimmy, Ryan, Stephanie, Jennifer, and Jacob; 15 great-grandchildren; brother, Dallas (Carol) Shoesmith of Battle Creek; many nieces, nephews, and friends; special caregiver, Donna Rice.
He was preceded in death by his parents, his wife, and two sisters.
A graveside service will be held at a later date at Riverside Cemetery.
Donations in Walt's memory may be directed to American Legion Post #170. Envelopes are available at Hohner Funeral Home.