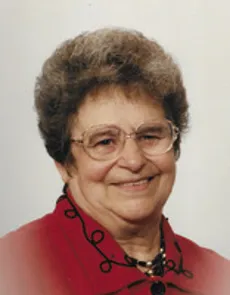 Willa A. Wallace, age 92, of Sturgis, passed away Thursday morning, January 19, 2023 at Parkview LaGrange Hospital with family present.
She was born Feb. 26, 1930 in Butler, IN a daughter to the late Kenneth and Grayce (Keller) West and she has resided in Sturgis since Kindergarten.
On April 22, 1949 in Sturgis she married Eugene "Doc" Wallace. He preceded her in death April 29, 1992.
Willa had been employed by the Kirsch Company for 34 years when she retired. Willa enjoyed bowling, word search, putting puzzles together, and attending her grandson Cole's sporting events when she was still able.
Surviving are 5 children: Belinda Reed of Sturgis, Blair (Tammie) Wallace of LaGrange, Gary (Georgia) Wallace of Youngstown, OH, Gwen (William) Blankenship of Stroh, IN, and Marla (Tony) D'Haese of Burr Oak; 14 grandchildren: Nicholas, Jereme, Anthony, Andrea, Codee, Sierra, Mehgan, Jordan, Kalen, Keila, Elisha, Landon, Trevor, and Cole; and 28 great-grandchildren, and a niece Janelle.
She was preceded by her parents, husband, and sister Lois Warner.
A memorial service celebrating the life of Willa A. Wallace will be held at 1:00 on Friday, Feb. 17, 2023 at the First Baptist Church, 1050 E. Fawn River Rd., Sturgis, with a continued time of fellowship and a sharing of a meal in the church fellowship hall.
Interment will take place at Sturgis Memorial Gardens. Memorial donations may be directed to First Baptist Church or Life Care Center of LaGrange, envelopes are available at the Hackman Family Funeral Homes who have been entrusted with the arrangements.
Her obituary is also at www.hackmanfamilyfuneralhomes.com where personal messages of support may be left for the family.