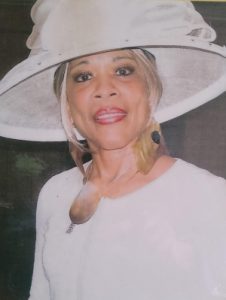 Henri'Etta Marie Tolbert passed away on January 24, 2023 in Jacksonville, Florida at the age of 82.  She was the seventh child born to the union of Florezel Louis Porter, Sr., and his wife Mary Johnson Porter in Chicago. She was preceded in death by both parents and four siblings: Florezel Porter, Jr., Josephine Anderson, Willa Honeybee Denman, and Florine Fesby.
Henri'Etta grew up and was educated in the city of Chicago. She accepted Christ as her savior at an early age and was baptized by her father Pastor Florezel Louis Porter, Sr., at St. Stephen's Baptist Church in Chicago.
Henri'Etta would soon meet the love of her life, Bobby Joe Tolbert, and the two of them were united in Holy matrimony. To this marital union were born two sons, Darryl, and Reginald. Henri'Etta was a gifted administrator and immediately launch a career of administrative work that she pursued until her retirement.
Like her mother, Henri'Etta was a gifted musician and vocalist. She began singing and playing the piano as a child and would do so for the rest of her life. Henri'Etta and her sisters love to sing together, known as the "Porter Sisters!" The Porter Sisters' signature song was "Didn't Rain Children!" Anytime they were together they sang together! It would be a blessing to be in service at Bethel when she would sing her favorite song: "God Specializes!" She would set the church on fire!
She joyfully shared her gift with St. Stephen Baptist Church, Liberty Baptist Church of Chicago, and when the Lord called her devoted husband, Reverend Dr. Bobby Joe Tolbert, to pastor Bethel Baptist Church, Three Rivers, she would spend nearly 50 years dedicated to the music ministry edifying the Kingdom of God!
Henri'Etta worked tirelessly and faithfully beside her husband in service to God and Bethel Baptist Church. After the death of her husband in 2004, Henri'Etta continued steadfastly in service and commitment to the cause of Christ. In 2006 the community of Three Rivers, District, and State Conventions joined with Bethel Baptist to formally celebrate 40 years of unbroken Christian service!
Henri'Etta loved spending time with her family! She would always be found at the Tolbert family reunion and never missed a Porter sisters' reunion! She would spend weeks preparing for those Porter reunions! She loved her family! At family gatherings, contention would erupt over her world-renowned German Chocolate Cakes, they were legendary!
Henri'Etta's life's work centered on her commitment to the Lord, her loving husband, and the well-being of her family. Henri'Etta continued in God's service until her health failed. She departed this life peacefully in the comfort of her son, Reginald, on January 24, 2023.
Henri'Etta leaves to cherish her memory and celebrate her life: two sons—Darryl Wayne (Connie) of Muskegon, and Reginald Fitzgerald (Victoria) of Jacksonville, Florida; six grandchildren—Wayne Tolbert, Daniel Tolbert, and Dylan Tolbert of Three Rivers; Jessica Adebayo, Brittany Jackson, and Joshua Tolbert of Jacksonville, Florida; great-grandchildren Clariana, LaVance, DaShanuj, Londyn, and Zida of Three Rivers; Olivia, Victor, Leo, Lennox, and Alora, of Jacksonville, Florida; one brother, Grandville (Uncle Joe) Porter, of Chicago, and sister, Annabelle Adkins of Jackson, Mississippi; and a host of nieces and nephews, friends, and church family.
Visitation will be held Friday, February 3, 2023 from 10:00 to 11:00 a.m. at Bethel Baptist Church, 17852 River Road, Three Rivers. A funeral service will follow at 11:00 at the church. She will be laid to rest in Mt. Ever Rest Memorial Park in Kalamazoo.
Arrangements by Hohner Funeral Home.