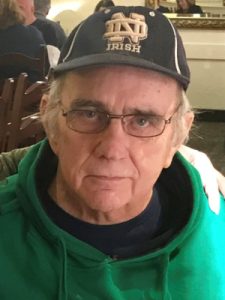 John Robert Cross, age 78, of Centreville, passed away surrounded by his loving family on Friday, March 24, 2023 at his home after a courageous battle with cancer. He was born in Three Rivers, the son of Leland and Mary (Sangalli) Cross.
John attended Three Rivers Immaculate Conception school from kindergarten- through eighth grade, and graduated from Three Rivers High School in 1963. He served his country during the Vietnam War in the U.S. Army as a medic until his honorable discharge. He was employed for over thirty years at Verizon, formerly GTE, until his eventual retirement.
John was united in marriage to Emily Jan (Kursner) Cross on October 17, 1969. Together they raised two children and made their home in Centreville. He was a die-hard Notre Dame fan, loved college basketball & football, the Detroit Tigers, playing golf, mowing his lawn, and playing cards with his family and friends.
He was preceded in passing by his parents, step father, Jack Dalponte; son, Jeff Cross, and sister, Judy (Cross) Stokoe.
Surviving to cherish his memory are his loving wife, Jan Cross; daughter, Jaimie (Cory) Patrick; grandchildren, Claire, Max, Miles, and Amelia Patrick; uncle, Peter Sangalli; close friend, John Lehman; and many cousins, nieces, nephews, and friends.
In accordance with family wishes, cremation will take place. Visitation will be held Saturday, April 15, at 11:00 a.m. at Hohner Funeral Home, 1004 Arnold St., Three Rivers, with a celebration of life to follow at 1:00 at the funeral home. Graveside service with full military honors will be held at Riverside Cemetery, Three Rivers.
Memorial donations in memory of John may be directed to Three Rivers Hospice Care. Envelopes available at Hohner Funeral Home in care of arrangements.