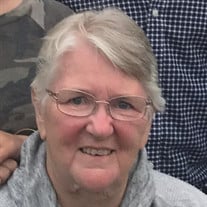 Sharon Lou Schuman, age 75, of Marcellus, passed away Thursday, March 2, 2023, at White Oaks Assisted Living.
She was born in Kalamazoo on May 25, 1947, the daughter of George and Elsie (Armstrong) Hawes.
On September 4, 1964, in Kalamazoo, she married Jack Schuman who precedes her in death. She was happily married to Jack for 56 years.
Sharon was an Elementary Paraprofessional for over 20 years with Marcellus Schools. She enjoyed working with children and knowing she made a difference in their lives.
Sharon loved her family, especially her grandchildren. She cherished attending their activities and spending time with family and friends at any event that included those she loved. Sharon had a heart of gold that put the needs of others ahead of her own. She lived by the words, "family and friends are everything".
Sharon is survived by her son; Chip (Jennie) Schuman of Mattawan; daughter Khim (Gary) Peoples of Kalamazoo, 4 grandchildren; Gavin (Taylor) Peoples of Westland, MI, Collin Peoples of Plainfield, IL, Courtney (Diego) Franco of Mattawan, Connor Schuman of Mattawan, and many nieces and nephews.
Sharon was preceded in death by her husband; Jack Schuman, son; Jamie Schuman, parents; George and Elsie Hawes, sisters; Aleva Bowen and Lila Kasinger.
Burial has taken place; a Celebration of Life will take place at a later date. Memorial donations may be directed to the Centrica Care Navigators or White Oaks Assisted Living. Online condolences may be left at www.materralstonfuneralhome.com