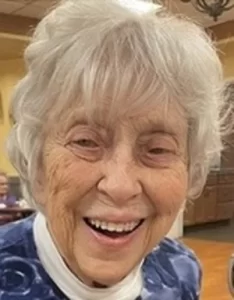 Shirley Mae Miner, age 86, of Ashland, Ohio went to be with her Lord and Savior on Saturday, February 25, 2023 at Brookwood Place, Brethren Care Village.
She was born February 3, 1937 in Freeport, MI to Keith (Pete) and Neva Price Smelker.
Shirley was foremost a wife and mother who loved cooking and baking for her family and friends. She loved working with children and taught Sunday School at whatever church they called home, as she and George moved several times throughout their 63 years of marriage. She was also a 4-H advisor where she taught sewing, cooking and baking…including teaching several of her grandsons to make cinnamon rolls and oatmeal bread!
While Shirley was mostly a stay-at-home Mom, once all of her children were out of her nest, Shirley became a Longaberger Consultant. In her twenty plus years associated with the company she was often one of their top achievers in both sales and recruiting. As a beloved branch advisor, she excelled at helping others reach their goals, and became a "Mom" to many.
Serving others through her Church ministries was always important to Shirley. As a member of Grace Brethren Church in Ashland, working with high school girls was a joy! While living in Sturgis, Shirley helped lead Vacation Bible School, and was in charge of the community outreach meals program for the Centerville United Methodist Church.
She is survived by two daughters, Sherry (Gordon) Garling of Ashland and Shelly (Tom) Sandford of Sturgis; a son, Gregory Miner of Luzerne, MI; a son-in-law, Scott Bowles of Highlands Ranch, CO; twin sisters, Linda Allen of Ionia, and Brenda (Don) Williams of Coconut Creek, FL; two brothers-in-law, Jack (Shirley) Miner of Hastings, and Tim (MaryEllen) Miner of Holland; 12 grandchildren, 18 great-grandchildren, and many nieces and nephews.
She was preceded in death by her husband, (Milton) George Miner; her daughter, Sonja Bowles; her parents and her brother, Howard Smelker.
Services will be at Grace Brethren Church in Ashland, on Saturday, March 11th. Visitation with the family will be at noon and the service at 1:00 with Norm Johnson officiating. A luncheon will follow.
The family would like to say a special thanks to the many wonderful people at Brethren Care who took such exceptional care of both Shirley and George over the past ten years! And also to the caring individuals from Gentiva Hospice whose comfort and compassion was so greatly appreciated.
In lieu of flowers we ask that donations be made to Gentiva Hospice in Ashland, or to your local Hospice program.
Fickes Funeral Home in Jeromesville, OH is assisting the family with arrangements.
Online condolences may be made at www.fickesfuneralhome.com.