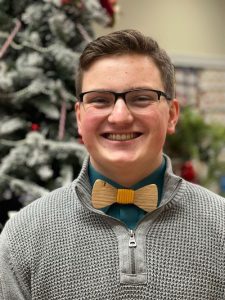 St. Joseph County 4-H member Peter Rambadt was elected to the Michigan 4-H Foundation Board of Trustees in February.
Rambadt is a Sturgis resident.
Michigan 4-H Foundation trustees are volunteers who serve as community advocates for 4-H, and lead and manage operations of the Michigan 4-H Foundation. Three positions on the board are reserved for trustees between the ages of 16 and 22.
Rambadt has been a member of St. Joseph County's Rolling Clovers 4-H Club for 10 years and club president since 2022. In addition, he developed his leadership skills by serving as a Michigan 4-H Shooting Sports ambassador, Michigan 4-H Youth Leadership Council youth advisor, and St. Joseph County 4-H Youth Council member. He was awarded the St. Joseph County 4-H Junior Swine Award and Michigan State 4-H Senior Unsighted Target Archer.