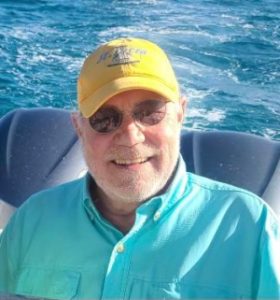 Jeffrey Alan Gardner, age 68, of Mendon, died Sunday, May 21, 2023 at Bronson Methodist Hospital in Kalamazoo. He was born in Quantico, Virginia on June 18, 1954 the son of George "Red" and June (Gilbert) Gardner. He graduated from Vicksburg High School with the class of 1973 and shortly after enlisted in the U.S. Army, serving through the end of the Viet Nam War. Jeff was married to Donna Clore and later divorced. He married Julia (Meyer) Harrison on January 11, 2003 in Las Vegas, Nevada.
Jeff was a member of Bricklayers and Allied Craft Workers Union (BAC) of Kalamazoo, retiring in 2018.He loved family get-togethers, pontooning on the St. Joe River, fishing, camping, and gardening. He especially looked forward to his yearly motorcycle trip, "Run for the Wall" that he took with his son, fellow veterans, and friends from California to Washington, DC.
Jeff is survived by his wife, Julie; five children, Rusty (Kim) Gardner of Waterloo, IL, Rocky Gardner of Sturgis, Dillon Harrison of Mendon, Rachel (Brendan Morris) Harrison of Dorado, Puerto Rico, and Leah (Brendon Shallack) Harrison of Kalamazoo; three grandchildren, Alyssa, Cole, and Norah; two sisters, Denise (Gordon) Chambers of O'Fallon, IL and Tracy (Matt) Catlin of Flushing; a brother, Jim Gardner of Benton Harbor; and several nieces and nephews. He was preceded in death by his parents.
In keeping with his wishes, cremation has been conducted. Memorial services are being planned for Sunday, June 11, 2023 at 2 pm at the Eickhoff Funeral Home in Mendon. Memories and condolences may be shared at www.eickhofffuneralhome.com