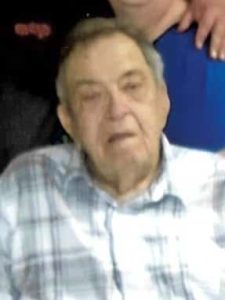 Jerry A. Herschleb, age 84, of Three Rivers, passed away Saturday, May 27, 2023.
He was born May 13, 1939 in Three Rivers, and lived there his entire life. He was employed at Armstrong Machine Works for 44 years and was a Deacon for many years and an active member at First United Methodist Church in Three Rivers his whole life.
Jerry was preceded in death by his wife Sally, granddaughter Ann Wolkins, parents Naomi and Albert Herschleb, and brothers Lynn and Raymond (Janet) Herschleb.
He is survived by his daughter Julie (Robert) Wolkins, brother Bruce (Dolores) Herschleb, sister-in-law Corrine Herschleb, and many nephews, great-nieces and nephews.
He enjoyed trains, Tiger Baseball, old western movies, and playing cards.
Visitation will be held Tuesday, June 6, 2023 beginning at 11:00 at Hohner Funeral Home, 1004 Arnold St., Three Rivers. A funeral service will follow at 1:00 with Chaplain Dan Lane officiating. He will be laid to rest in Riverside Cemetery.
Donations in Jerry's memory may be directed to St. Jude Children's Research Hospital. Envelopes are available at the funeral home.