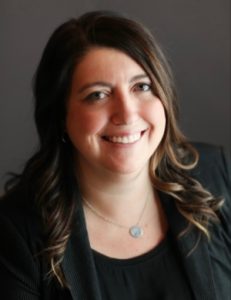 Megan Marie Fry, age 42, of LaGrange, passed away Wednesday, May 24, 2023, at Parkview Regional Medical Center in Fort Wayne. She was surrounded by family and friends at the end of her 10-month courageous fight against cancer.
Megan was born on April 20, 1981, in Coldwater to Ronald and Jill (VanWagner) McNamee. She grew up in Orland, Indiana with her parents and her sister, Mallory. She attended Prairie Heights schools, graduating with the class of 1999 and later attended Tri-State University, graduating in 2003 with a double major in Environmental Science and Chemistry.
Immediately after college, she began her career at Abbott Nutrition in Sturgis. She excelled during her 20 years with the company gaining several promotions within the Quality Assurance team, most recently as Quality Systems Manager, where she had an impact on many individuals both at the Sturgis site and across the entire Abbott organization.
On June 7, 2003, she and Tyler Fry were married in Kendallville. She and Tyler established their home in LaGrange. They became parents in 2009 when their son, Hunter was born, followed in 2011 by their daughter, Olivia. Being their mother was the joy of Megan's life. Together, the family attended Orland Congregational Church. She loved spending time with Tyler, the kids, their dogs, and their families and friends, watching and attending sporting events, and enjoying time at the lake together.
Megan overflowed love, faith, and steadfastness to everyone she encountered. To her family, she was the most loving, loyal, and generous mother, wife, daughter, sister, and aunt. Friends reminisce that she was funny and determined, often encouraging them to try new hobbies, listen to new podcasts, or run half-marathons. Colleagues describe her as kindhearted, intelligent, resilient, wise, and determined. All knew her as strong and courageous – a beautiful soul. She will be missed, but never forgotten. Her story continues through her children, her family, her friends, and all who strive to Be Like Megan.
Surviving Megan, along with Tyler, Hunter, and Olivia, are her father, Ronald McNamee of Orland; sister and brother-in-law, Mallory and Matthew Grossman of Wolcottville; mother -in- law Marti Fry of LaGrange; Tyler's siblings, Chris and Karen Fry of Justin, Texas; Gina and Toby Champion of Orland; Trevor and Stephanie Fry of Wolcottville, Nikki Byroad of Shipshewana; and Megan's beloved nieces and nephews, Madison, Morgan, Mason, Makenna, Hadlee, Hayden, Brody, Brayden, Jared, Kelsey, Emma, Kylie, Emily, Evan, and Keenan, as well as extended family and many friends.
Her mother, Jill McNamee (December 2022) and father-in-law, John Fry (October 2016) preceded her in death.
Friends and family may gather to remember Megan during a memorial visitation on Wednesday, May 31, 2023, from 4 to 8 pm at Frurip-May Funeral Home, 309 W. Michigan St., LaGrange, IN.
A memorial service honoring Megan Fry will take place on Thursday, June 1, 2023, at 10:00 am at First United Methodist Church of LaGrange, 209 W. Spring St., LaGrange. Rev. Mark Emelander will officiate the service. Burial will follow at Greenwood Cemetery in LaGrange.
Memorials may be made to the future education of Hunter and Olivia Fry.