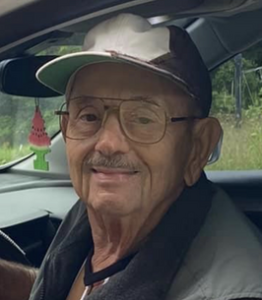 Leo Thomas Odisher, age 82, of Sturgis, passed away Sunday, May 28, 2023 in his home surrounded by family. Cremation has taken place and a memorial mass will be held Monday, June 5, 2023 at 11:00 at Holy Angels Catholic Church in Sturgis. Funeral arrangements have been entrusted to Dutcher Funeral Home in Coldwater.
Leo was born December 14, 1940 to William and Lillian (Miner) Odisher in Coldwater. On January 20, 1962 at St. Mary's Church, Leo married Loreta Nowak. Leo led a lifelong career as a barber, owning and operating Haircrafters in Sturgis, until his retirement. Leo was a member of Holy Angels Church in Sturgis, Sons of the American Legion Post 219, Fife Lake, Elk's Club in Harlingen, TX, and was a lifelong member of the VFW in Sturgis. Harboring a passion for the outdoors, Leo served as Cub Master for Bronson Cub Scouts. He loved to play golf, hunt, fish, travel and was diligent in keeping a perfectly mowed lawn. Leo and Loreta built a special life together being inseparable for over 60 years, they spent summers in Michigan and their winters in Texas. Leo was an honest man who wore his heart on his sleeve. He always had a story to tell and there was always a job to be done, he was our MacGyver taking on any project with items he had handy. He always said "Can't couldn't do anything." He will be missed as a devoted husband, father, brother, uncle, grandfather, great-grandfather, and friend.
In addition to his wife Loreta, Leo leaves behind his children Mark (Sharon) Odisher of Coldwater, Bridget Odisher of Sturgis, Amy Everett of Fife Lake; his siblings Bill (Frances) Odisher of Coldwater, Connie Schrader of Coldwater, Ella Foley of Kentucky; 10 grandchildren, 14 great grandchildren; and his dog Gypsy.
Leo was preceded in death by his parents and his son Leo S. Odisher.
Memorial donations are suggested to St. Jude Children's Research Hospital or to the Shriners Children's Hospital.