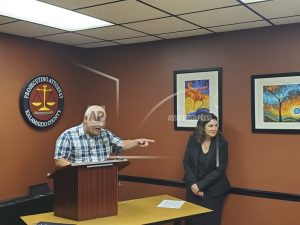 A man who spent nearly 21 years in prison for the deaths of two Michigan hunters filed a lawsuit Friday seeking $1.02 million for wrongful convictions, just a day after a prosecutor dropped murder charges and ruled out a second trial.
"Jeff Titus is 71 years old. He was robbed of 21 years of his prime," attorney Wolf Mueller said. "Who knows how long he will live? He doesn't have a day to waste."
Titus' convictions were thrown out in February based on newly discovered evidence, Mueller said, a key threshold to get compensation from the state.
Titus has long declared his innocence in the fatal shootings of Doug Estes and Jim Bennett near his Kalamazoo County land in 1990.
He was released from prison — and a life sentence — earlier this year when authorities acknowledged that Titus' trial lawyer in 2002 was never given a police file with details about another suspect. Thomas Dillon was an Ohio serial killer whose five victims between 1989 and 1992 were hunting, fishing or jogging.
There is no dispute that the failure to produce the file violated Titus' constitutional rights.
"The 'new evidence' demonstrates that (Titus) is factually innocent of the crime," his lawsuit states.
Under Michigan law, someone who is wrongly convicted can be eligible to receive $50,000 for each year in prison.
"We have not yet received the complaint and will evaluate it when we do," said Kimberly Bush, spokeswoman at the attorney general's office.
Dillon died in an Ohio prison in 2011. The file found at the county sheriff's office revealed that a woman and her son had identified him as the man in a car in a ditch near the Michigan murder scene. The woman also described a car that resembled one owned by Dillon's wife.  (AP)