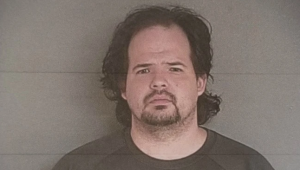 Sturgis resident Wade Allen will serve at least 37 and as many as 60 years in prison after pleading no contest to second-degree murder and attempted dismemberment.
Allen, 39, was sentenced last week in connection to the death of his girlfriend, Kelly Jean Warner. She died at Allen's Sturgis apartment in May 2019.
St. Joseph County Circuit Judge Paul Stutesman also sentenced Allen to a maximum of five years after Allen pleaded no contest to attempted criminal-sexual conduct involving a cellmate in October 2020 in the St. Joseph County Jail.
Assistant attorney general Danielle Hagamann-Clark said Allen was a menace to society and asked for the maximum-guideline sentence. Because county prosecutor David Marvin once represented Allen, he referred the case to the Attorney General as a special prosecutor because of the conflict.
Meanwhile, the victim of the jail sexual assault appeared on video from a state prison. He told the judge the conduct was not consensual.