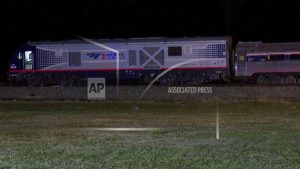 An Amtrak train heading to Chicago with 200 passengers derailed after striking an unoccupied vehicle and a tow truck in southwestern Michigan, authorities said Friday.
"The engineer and approximately 10 passengers received non-life threatening injuries and were treated by local ambulance services," the Berrien County sheriff's office said.
The train derailed but remained upright.
The crash happened Thursday evening near New Buffalo in Michigan's southwestern corner.
The vehicle was stuck on the tracks and was being removed when the train hit it and the tow truck, the sheriff's office said. Two or three people at the scene dashed for safety.
"With the lights, they could tell the train was coming. They got out of the way," Undersheriff Chuck Heit told The Associated Press. "We were very fortunate — blessed — to not have more severe injuries or a fatality."
The train's engineer had no warning that a vehicle was on the tracks because no one contacted Amtrak, railroad spokesman Marc Magliari said.
"There are large blue signs at that crossing that have a phone number," he said.
Passenger Riley Kozloff said the crash caused a fire outside the train.
"I bumped my head a little at first — the collision just happened," Kozloff told WNDU-TV in South Bend. "It felt like it was 20 seconds long, everyone was just confused."
Passengers were taken to New Buffalo High School. Some were picked up by family and friends while others continued their trip to Chicago on buses arranged by Amtrak, the sheriff's office said.
Amtrak has three routes for people traveling between Chicago and many communities in Michigan. At least eight trains were canceled Friday while investigators remained at the crash scene.  (AP)