KALAMAZOO — Kalamazoo Wings forward Steven Anthony may be from Canada, but one of his passions is baseball. Active in the sport as a youth, Anthony would spend his summers on the diamond.
But like many Canadians, hockey still topped the list as the sport of choice for Anthony, and he had one dream: to hit the ice as a professional player. And since hockey takes a bigger commitment in the summer now with training and camps, his ball playing days are at a premium.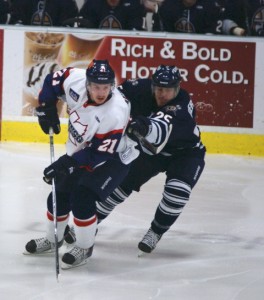 Choosing hockey over baseball wasn't that difficult a choice for Anthony, and it is one that he does not regret. "It was the right decision," Anthony said. "Hockey is the biggest thing in my life. Maybe if I was born in the states, I'd play baseball."
Anthony, a native of Halifax, Nova Scotia, was drafted by the Vancouver Canucks in the 2009 NHL Entry Draft. Although he was not at the actual draft, Anthony watched on the internet as his name was called. "It was pretty special. It is something that I will remember the rest of my life," he said. Anthony was selected in the seventh round, the 187th player overall.
Luckily for Anthony, the Canucks just happen to be his favorite team, if only by default. "I was more of a guy who liked to watch certain players rather than have a favorite team," Anthony said. "I liked San Jose because Joe Thornton's there and Tampa Bay because of Vince Lecavalier. But there wasn't any die-hard team that I followed." Until now, that is.
As a contracted player with the Canucks and the K-Wings being an affiliate of the NHL team, Anthony was assigned to play in Kalamazoo at the start of the season. In late December, Anthony was called up to the Chicago Wolves of the AHL but has since returned to the K-Wings.
NHL contract or not, Anthony said that all players on the team are playing hard and are playing to win. "Everyone is playing the best they can in order to get called up or to do well," he said. "Everyone wants to win, no matter whether you're here, in the AHL or in the juniors. The reason you play is because you want to win and you want to keep getting better."
Anthony feels he is doing just that in his first year as a pro. "I feel I am playing well and not in a slump or struggling at all," he said. "There are a lot of veterans on this team that have been around pro hockey for a while, so you take a lot from Karlander, Ftorek, Bootland, and those guys."
Noting that the speed and strength of the players is much different than he was used to when playing for the Saint John Sea Dogs in the Quebec Major Junior Hockey League, Anthony says it is all helping him become a better player. "I've tried to improve and make adjustments to my game to be a smarter player and not run around the ice like you sometimes do in the juniors."
Coming to the K-Wings as an affiliated player creates a little pressure, according to Anthony. "You are not under contract with this team, you are sent here," he said. "So you have to play your way on in order to get ice time and play well and show you want to help this team."
Pointing to the numerous banners hanging from the rafters of Wings Stadium, Anthony is happy to be a K-Wing. "There is a winning tradition here. They went to the finals last year. It is fun playing here, the fans are great, and the organization as a whole is great."
In 22 games this season, Anthony has scored seven goals, eight assists and is a plus six. Notching his first goal as a professional on Oct. 23, 2011, Anthony scored the lone goal in a 3-1 loss to the Chicago Express. "It was a pretty nice goal, actually one of the nicer goals I've scored," Anthony said. "I walked around the defenseman and shot the puck top shelf."
In his free time, Anthony is making plans with his future in mind. Finishing school is a priority that he takes seriously and set his sights on a future in the business and financial sector. "Whether I have my own business or work in the financial system, it is something I would be doing if it wasn't for hockey," he said.
It is no wonder his favorite movie is "Wall Street" and, like many hockey players, Anthony noted that he has probably watched 90 percent of the movies that Blockbuster has to offer.
With the goal of making it to the NHL on his mind, Anthony is pleased with where his young hockey career has taken him so far. "I'm 20 years old and playing in the pros, so it's not so bad," he added with a smile.