KALAMAZOO, MI- The Kalamazoo Wings gave their fans a reason to cheer as they were victorious in both games at Wings Stadium this past weekend. With the wins, the K-Wings improve their record to 19-11-1-2, good for 41 points and first place in the ECHL's North Division.
The K-Wings were not trying to be cruel to their fans during Saturday's Elvis night against the Trenton Titans, but they did provide them with a white-knuckle ending to the game. After trailing 4-2 entering the final period, the K-Wings battled back to knot the game at four goals apiece midway into the stanza.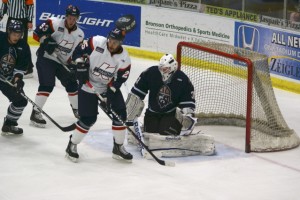 Just 41 seconds into the game, Ryan Hayes scored to give the Titans an early 1-0 lead. The K-Wings would tie the score late in the period on a Brandon Svendsen power play goal, but the Titans would regain the lead on a power play goal of their own with under a minute remaining in the period.
Increasing their lead on a pair of back to back goals by Mike Germain, the Titans held a 4-1 advantage over the home team. The K-Wings cut the lead in half with a goal by Bryan Haczyk midway through the period.
The third period started out flat, with neither team finding the back of the net, but the last half of the period provided all of the fireworks.
Trent Daavettila started the K-Wings comeback with a power play goal at the 13:58 mark of the final period. Just 13 seconds later, a John Kivisto shot that was initially stopped by goaltender Dave Caruso trickled over the goal line to tie the game 4-4.
With just under two minutes to go in the game, the Titans Steve Silva scored for a 5-4 lead over the K-Wings.
Down by a goal with just 15 seconds left in the game and goaltender Maxime Clermont pulled for a sixth attacker, Daavettila scored his second goal of the night to send the game into overtime, bringing the crowd of 2,607 to a frenzy.
Entering the OT on the power play, momentum was on the side of the K-Wings. An Elgin Reid slap shot from just below the blue line flew past Caruso to give the K-Wings the win just 42 seconds into overtime.
On Friday, the K-Wings defeated the Greenville Road Warriors by a score of 6-4. The Road Warriors scored just 31 seconds into the opening period and took a 2-1 lead into the second before the K-Wings erupted for four goals.
Mike Matczak stared the K-Wings scoring barrage by netting a shorthanded goal just 50 seconds into the second period. Matczak followed up that tally with a five-on-three power play goal five minutes later to give the K-Wings a 3-2 lead.
Joining the K-Wings scoring parade, Trent Daavettila knocked in another power play goal just 40 seconds later for a