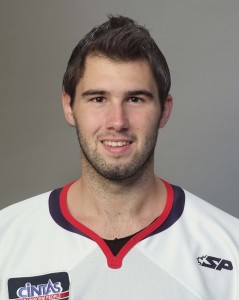 CINCINATTI, OH- Following their lackluster play in Wednesday night's 2-1 loss to the South Carolina Stingrays at Wings Stadium, the Kalamazoo Wings looked to get back on the winning track in Cincinnati.
The Cyclones, winless in their last three games, have only lost one game in regulation on home ice this season in 12 games. That one loss was to the K-Wings, a 4-2 decision back on December 13th.
The K-Wings were looking to snap a three game road losing streak.
Striking first while on the power play, Taylor Ellington gave the K-Wings a 1-0 lead with his fifth goal of the year. Trent Daavittila deflected a Steven Anthony shot into the net just under two minutes later to put the K-Wings up by a 2-0 score.
The Cyclones hit the scoreboard late in the period on a blue-line blast by David Leaderer to cut the K-Wings lead in half.
Neither team scored in the second period.
Nick Sirota scored the insurance marker for the K-Wings midway into the third period for the 3-1 lead. Maxime Clermont stopped 31 of 32 shots by the Cyclones to secure the win for the K-Wings.
With the win, the K-Wings extend their lead over the second place Chicago Express, who lost to the Florida Everblades by a score of 4-2. The K-Wings, who lead the North Division with a record of 20-12-1-2, lead the Express by six points. The Cyclones, who are in third place, are 11 points behind the K-Wings with a record of 14-12-0-4. The Toledo Walleye round out the division in last place with a record of 14-18-1-1 and are 13 points behind the K-Wings.
The K-Wings host the Walleye tonight during the 4th Annual Golden Ice Game beginning at 7:30 pm. Following the game, the K-Wings will auction off the one of a kind McDonalds themed jerseys that they will be wearing during the game with a portion of the proceeds going to the Ronald McDonald House of West Michigan.