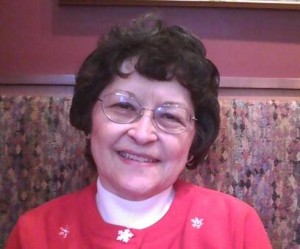 Patricia Jean Mechling, age 76, of Constantine, passed into glory on Saturday, April 4, 2015 at her home, surrounded by family. She was born on June 12, 1938 to Arthur and Grace Irene (Shepard) Deitrich of Berrien Springs. She went to Niles Schools graduating in 1956 and later graduated from Davenport University with a degree in business. On June 14, 1969 she married Stan Mechling. Pat retired from Fonda Group in Three Rivers in 1995. She enjoyed spending time with her family, vacationing at the family cabin in Watersmeet, fishing and hunting.
She is survived by her husband Stan, of 46 years, four children: Doug (Jo) Egmer, Constantine, Pam (Randy) Davis, Marshall, Kim Fultz, Three Rivers, John (Janell) Mechling, Constantine, ten Grandchildren: Misty (Tim) Vosters, Three Rivers, Eric (Christina) Egmer, Round Lake Illinois, Chase (Erin) Smagala, Ridge Top Tennessee, Maggie (Matt) Miller, Marshall, Morgan Smagala, Grand Rapids, Amanda Egmer, Constantine, Kali Davis, Minneapolis, Minnesota, Josh Mechling, Constantine, Jacob Mechling, Constantine, and Zack Fultz, Constantine, four Great Grandchildren: McKala and Travis Vosters, and Ella and Lyla Egmer, brother Jim (Mary) Deitrich, St. Joseph. She was preceded in death by her parents, and her son Gregory Duane Egmer.
Relatives and friends will be received Tuesday from 4:30 to 7:30pm at Eley Funereal Home, Constantine. Services will be held 11am Wednesday at Trinity Missionary Church, Constantine. Interment will be at Riverside Cemetery, Three Rivers. Donations may be made to West Michigan Cancer Center, Trinity Missionary Church or Three Rivers Health Hospice. Online messages may be left for the family at www.eleyfuneralhomes.com.