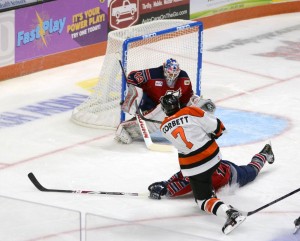 K-Wings goaltender Joel Martin stops one of the 41 shots he faced on Saturday night in Fort Wayne.  Photo courtesy of the Fort Wayne Komets.
The Kalamazoo Wings (0-2-0-0) kicked off their 42nd season of professional hockey this past weekend, but the results were not quite what they were hoping for.
The first puck drop of the season occurred on Friday night at Wings Event Center as the K-Wings hosted their arch-rival, the Fort Wayne Komets (2-0-0-0).
Alex Belzile put the Komets on the board late in the opening period for a 1-0 lead.
Striking back in the second period, Eric Kattelus and Charlie Vasaturo scored goals five minutes apart to give the K-Wings a 2-1 lead. The goal by Vasaturo was his first as a professional.
Mike Embach scored later in the period for the Komets to tie the game at two goals apiece.
Taking the lead back in the third, David Gilbert scored on a breakaway for a 3-2 K-Wing advantage.
Putting a quick damper on the Gilbert goal, the Komets Trevor Cheek scored just 50 seconds later to knot the game at three goals each.
Later in the period, Shawn Szydlowski scored to give the Komets a 4-3 lead. An empty-net goal in the closing seconds of the game by Garrett Thompson sealed the victory for the Komets.
The K-Wings outshot the Komets 37-25 and had seven power play opportunities, scoring one man advantage goal, compared the Komets three. The Komets scored two power play goals.
Meeting for a rematch on Saturday night in Fort Wayne, the result was same for the K-Wings as they fell to the Komets for the second night in a row by a score of 3-1.
Adam Phillips scored the only goal for the K-Wings.
The Komets outshot the K-Wings 41-20 in the loss.
Returning home this Friday, the K-Wings will host the Toledo Walleye for the 5th Annual Susan G. Komen game. The 7:30 p.m. contest features specialty jerseys and numerous silent auction items. All proceeds from the auction will go directly to the Susan G. Komen for the Cure.
Submitted by Mark McGlothlen