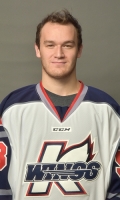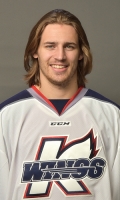 The Manchester Monarchs (4-4-0-0) made the most of their first-ever visit to Wings Event Center on Tuesday night.
The Kalamazoo Wings (4-6-1-0) got off on the right foot as Alex Mallet scored just sixteen seconds into the opening period.
Just over two minutes later, the Monarchs jumped on the scoreboard as Troy Power knotted the game at one goal each.
Not to be outdone, Mallet struck again for his second goal of the night, fifth of the season, to give the K-Wings a 2-1 lead just under five minutes into the first stanza.
From there, however, it was all Monarchs as they reeled off five unanswered goals to take a 6-2 lead after two periods.
Tanner Sorensen scored his first professional goal early in the third period to cut the Monarch's lead to 6-3.
Gasper Kopitar scored a few minutes later for the Monarch's to make it a 7-3 lead and eventual win.
Clay Witt, who was reassigned to the K-Wings before the game from the Utica Comets started in goal. Witt was taken out of the game in the second period but returned for the third. In all, Witt played 41:49, making 19 saves on 25 shots. Joel Martin was in net for 17:53, making three saves on four shots.
K-Wings News and Notes:
Dane Fox extended his point streak to five games with an assist on Mallet's second goal. Alex Mallet is the first Kalamazoo player to score multiple goals in a period with his two during the first of tonight's game. The Monarchs scored five unanswered goals between the first and second periods.
The Kalamazoo Wings host medieval night at Wings Event Center on Friday, November 13, at 7:00 p.m. against the Evansville Icemen. The night will feature special food, games, and activities all around the concourse. Fans are encouraged to donate new sweatpants, coats, boots, and socks for the Communities in Schools organization. With a donation of two items, fans will get a $5 concession voucher.
On Saturday, the Cincinnati Cyclones blow into town on Honor our Hero's/Scout Night. The first 1200 fans will receive a Rally Towel. There will also be a special game jersey auction benefiting Talons Out Honor Flight. The game will honor veterans of military, police and firefighters.