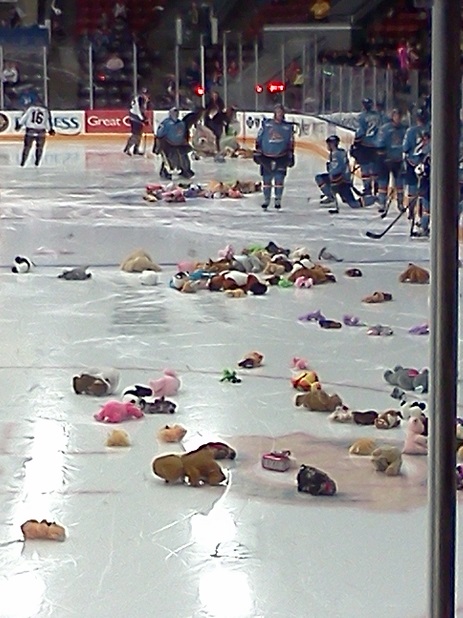 KALAMAZOO – The Kalamazoo Wings (7-10-1-1) took a 3-0 lead over the visiting Toledo Walleye (9-5-1-3) on Sunday evening, but the game was anything but easy for the K-Wings.
A scoreless first period cleared the way for a four-goal second.
Just 17 seconds into the middle period, David GIlbert scored his second of the season, prompting fans to toss 1,087 stuffed animals on to the ice for the K-Wings annual Teddy Bear Toss game. The toys will be donated to the Bronson Children's Hospital as well as other agencies.
Colin Murray added his second goal of the season later in the period to give the K-Wings a 2-0 lead.
Tanner Sorenson scored his fourth of the season just over ten minutes later to give Kalamazoo a 3-0 lead. A scrum in front of Lerg led to the puck bouncing around the crease before Sorenson pushed it in to the corner of the net. With the goal, Sorenson has earned a point in three straight games.
Down, but not out, the Walleye quickly jumped back into the game as they scored their first of the game just 26 seconds after the Sorenson goal. Joel Chouinard took the faceoff, streaked into the zone and lifted a wrist shot over the blocker of Joel Martin.
Mark Tvrdon and Michael Leone scored the other two goals for the Walleye. The score remained tied at the end of regulation.
Moving into the three-on-three overtime, both teams found quality scoring chances, but the game would remain scoreless and head to a shootout. A.J. Jenks was the lone scorer in the shootout to give the Walleye the 4-3 win.
Starting off the weekend on a sour note, the K-Wings lost to the Quad City Mallards by a score of 3-1 on Friday.
The K-WIngs hit the road for four games before returning to the Wings Event Center on December 11th and 12th as they face the Brampton Beast. The Beast are coached by former K-Wings assistant coach Colin Chaulk. The weekend games are being billed "Country Weekend". The games will feature special themes in the concourse and pre-game and intermission country bands.
K-Wings News and Notes
Kalamazoo has lost four straight games. With a goal in the second period, Tanner Sorenson is on a three-game point streak. Gilbert had his second multi-point game of the year. Kalamazoo allowed a season-high 53 shots on net. Kalamazoo will play their next four away from Wings Event Center.
By: Mark C. McGlothlen