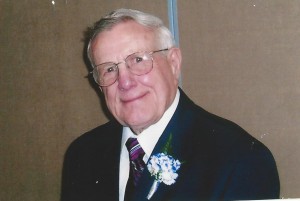 Dr. Donald Ray Schimnoski, age 94, of Three Rivers, passed away peacefully surrounded by his family, on Wednesday, Dec. 9th, 2015 at Borgess Medical Center following a very brief illness. He was born on Jan. 9, 1921 in Jeffers, Minnesota, the son of the late August and Mary (Beier) Schimnoski.
Known affectionately as "Dr. Don", he dedicated the last 58 years serving in family practice in Three Rivers. Dr. Don fulfilled his calling in life to help others through his compassion, humility, and kindness. His dedication to his medical practice was evident in his desire to take care of his patients until his recent illness. He was a beloved man, who not only loved his family, but also the countless patients he served throughout his career. He will always be remembered by his children, friends, patients, and colleagues as a very caring person with a warm smile.
Dr. Don graduated from Northfield High School in Minnesota where he excelled in football, basketball, and baseball. After high school, he attended Carleton College enrolling in their pre-med program, and playing star forward on the varsity basketball program and short-stop on the baseball team. After graduating from Carleton, Dr. Don enrolled in the University of Minnesota Medical School, and while a student there, served his junior internship at Fairview Hospital in Minneapolis, and senior internship at Fordham Hospital in New York.
After completing his senior internship, Don enlisted in the U.S. Navy for two years serving on two medical ships. After his honorable discharge, he worked several years in a family practice clinic in Flat Rock, MI. With an interest in orthopedics, he attended the University of Michigan Medical for two years, completing a residency in orthopedic and general surgery at Henry Ford Hospital in Detroit, and Post Montgomery Hospital in Battle Creek. Dr. Don and his wife Gloria and family moved to Three Rivers in 1957 where he joined the staff at Three Rivers Medical Clinic and Three Rivers Hospital.
Dr. Don was a devoted husband, father and grandfather, and was always there for his family. He loved nature and animals, especially his dogs. Watching deer and wildlife in his yard brought him much enjoyment. He was also an avid sports fan following college and professional football, basketball, baseball and hockey games.
Dr. Don was preceded in death by his wife Gloria in 1985, sister, Verna Schimnoski, brother, Louis Schimnoski, son-in-law, David Dannison and grandchildren, John and Jeanne Dannison.
He leaves to cherish his loving memory, five children, Ken (Marian) Schimnoski, Wayne (Janice) Schimnoski, Jan (Mark) Johnson, Brenda Schimnoski, and Vernon Schimnoski; three grandchildren, Mark Schimnoski, Jacqueline Johnson, and Brent Schimnoski, and five great-grandchildren.
Cremation has taken place. The family will receive friends from 4-8 p.m. on Thursday, Dec. 17th, 2015 at the Hohner Funeral Home, Three Rivers.
A celebration of Dr. Don's life will be held 11:00 a.m. on Friday, Dec. 18th, 2015 at the First United Methodist Church, Three Rivers, with Pastor James Stilwell officiating.
Interment will be held in Riverside Cemetery at a later date. Memorials may be donated to the St. Joseph County Animal Rescue Fund or the Donald R. Schimnoski Scholarship Fund to benefit students from St. Joseph County pursuing careers in the healthcare field. Envelopes are available and donations may be sent to Hohner Funeral Home in care of arrangements. Online condolences may be left for the family at www.hohnerfh.com.