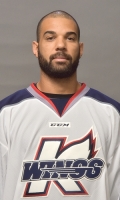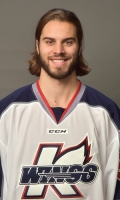 KALAMAZOO – The Kalamazoo Wings (10-13-1-1) scored three goals in the first period of each of their- two games against the Brampton Beast (8-14-2-0) this weekend to propel them to victories on both nights.
On Friday, the Justin Taylor scored a shorthanded goal just 32 seconds into the opening period to give the K-Wings a quick lead. The goal by Taylor was his sixth of the season.
Later in the period, David Gilbert scored a pair of goals just 33 seconds apart, both on the power play, to give the K-Wings a 3-0 lead.
Ludwig Blomstrand scored early in the third period to make it a 4-0 game. Joel Martin stopped all 34 shots by the Beast in route to his 23rd professional shutout.
Much like the night before, the Wings jumped out to an early lead, courtesy of the power play. Justin Taylor fed a back-door feed to David Gilbert, who one-timed the puck behind Brampton goalie, Trevor Cann.
Just 47 seconds later, Lane Scheidl extended the Kalamazoo lead to 2-0. Carrying the puck through the neutral zone, Scheidl sped around the Beast defenders and lifted a shot on net. The initial shot was stopped by Cann, but Scheidl continued to drive the net and pushed the puck in for his third of the season. That goal would spell the end of the night for Cann, who allowed two goals on two shots in just 2:33 of action.
Midway through the first stanza, Ludwig Blomstrand netted his fifth of the season to push the Wings' lead to three goals. Tyler Shattock tipped a backhand pass to Blomstrand whose wrister was saved by Andy Iles, but ricocheted in the air and was deflected off the body of Blomstrand and into the goal.
The Beast scored a goal in the second period, ending Martin's bid for a second-straight shutout.
Remaining home for more games, the K-Wings host the Manchester Monarchs for Education Day on Thursday morning with a 10:30 a.m. puck drop. The Atlanta Gladiators will be in town this weekend for two games on Friday and Saturday nights. Buddy the Elf will be in attendance on Friday night and Santa will be at the game on Saturday night. Game time is 7 pm on both nights.
K-Wings News and Notes
Notes: Colin Chaulk made his first appearance at Wings Event Center as an opposing team's head coach after spending two seasons in Kalamazoo as an assistant. Scheidl recorded his first goal since October 30th. Gilbert scored his third power play goal in the last two games. Joel Martin made 71 saves on 72 shot attempts by the Beast this weekend. Kalamazoo's power play went 3/9 over the weekend and the penalty kill went 5/5.
By: Mark C. McGlothlen